Around 1,000 militants from the Jaysh al-Islam (Army of Islam) terrorist group have agreed to leave the city of al-Dumayr, according to the Syrian Arab News Agency.
The city is located in the Damascus province, just northeast of the capital, and is situated next to the al-Dumayr military airport.
The militants will reportedly be transferred to Jarabulus city in the province of Aleppo. It remains unclear when they will be transferred, but they have already handed over some of their heavy weapons, as they agreed to do so in negotiations with delegates from the Syrian government.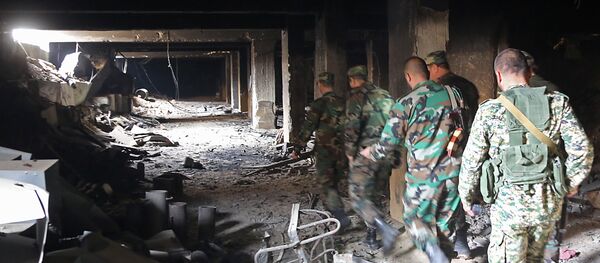 In the wider province, militants remain in control of a number of cities and towns, and have also set up fortified positions in the nearby mountains of Jabal Naqb and Jabal Zubaydi, among others.
Although the entirety of Damascus is yet to liberated by government forces, the recent offensive in East Ghouta – designated operation Damascus Steel – has significantly bolstered the capital's security, as militants used the area to fire mortars and improvised rockets at government-held parts of the, killing and injuring hundreds in recent weeks alone.
---
*Daesh (also known as ISIS/ISIL/Islamic State) is a terrorist group banned in Russia.