"I can't comment on that," State Department spokeswoman Heather Nauert told reporters on Tuesday when asked if the US has samples of the evidence showing chemical weapons were used.
The US believes that the nerve agent sarin was used along with chlorine gas in the recent attack on the city of Douma on the outskirts of Damascus, Nauert said in the briefing.
"We have information that leads us to believe that both chlorine and sarin were used in the attack," Nauert said.
US State Department sources said the Organization for the Prohibition of Chemical Weapons (OPCW) inspection team has not been able to enter the Syrian city of Duma yet to conduct an independent investigation, the spokesperson said.
"Our sources, which [we] consider to be reliable, indicate that the team has not yet been able to enter Douma," Nauert stated. "That is our understanding of the situation as of right now."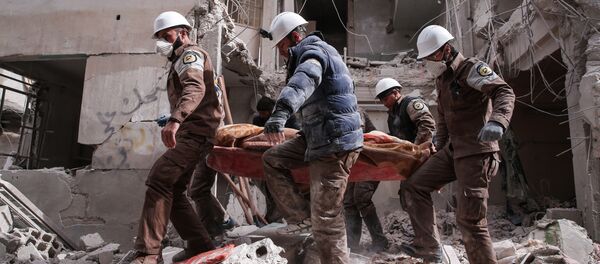 Russian Foreign Ministry spokesperson Maria Zakharova said in an earlier statement that Western media claims that Russia allegedly "blocked" OPCW entry into Douma are unscrupulous.
Nauert also said that sanctions against Moscow "are not off the table, we just don't have anything to announce at this time." On Sunday, US ambassador to the UN, Nikki Haley, said sanctions were imminent, but the the White House and the Treasury Department ultimately didn't follow through.