The indictment of Pantaleo was one of the first rallying cries of the Black Lives Matter movement, and the protests that followed propelled Garner's last words, "I can't breathe" into the national spotlight. But despite massive outcry, the officer at the center of the controversy — Pantaleo — has not faced charges over the killing.
That July day, NYPD officers confronted Garner outside of a Staten Island store, accusing him of selling untaxed cigarettes. The encounter was captured on a bystander's cell phone and quickly went viral over perceptions of police brutality and excessive force.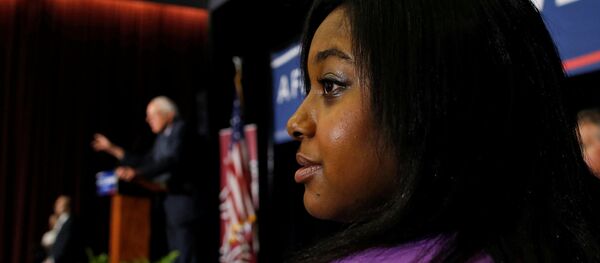 30 December 2017, 18:34 GMT
Since Garner's death that day, his family and legal activists have called for criminal and civil rights charges against Pantaleo, even after a grand jury cleared him of charges in December 2014. Now, federal officials are wrapping up their decision on whether to charge him.
Pantaleo was placed on modified duty after the killing, but still managed to rake in nearly $120,000 in 2016 with the help of extensive overtime.
Complaints against the officer from the Civilian Complaint Review Board (CCRB) were leaked in March 2016, showing that he had seven complaints lodged against him, with 14 allegations, in his eight years on the force prior to killing Garner. Four of the complaints were substantiated by the CCRB, but Pantaleo was never disciplined beyond having two vacation days docked. That punishment was over a substantiated complaint about a unwarranted "stop and frisk."
According to three current and former officials who spoke with the New York Times, there's been a divide at the US Department of Justice over whether to charge the cop, although the sources suspect Rosenstein will decline to file them. 

The DoJ has been looking into the case since the Obama administration, with many officials reportedly on the side of indictment but wary that prosecuting the case would likely not work. Officials told the New York Times that the FBI team that first began work on the case skewed their investigation to favor Pantaleo.
The NYPD has concluded its internal investigation, according to the New York Times, though its findings haven't been revealed. The department is reportedly waiting to decide on its punishment of Pantaleo until the DoJ makes its decision.