Earlier in the day, Armenian lawmaker Nikol Pashinyan, the leader of the opposition "Way Out" (Yelq) Alliance, announced the start of a blockade of roads, adding that the transport system collapse would show Sargsyan that he had no control over the situation in the country.
Since April 13, the Armenian capital has been hit by a series of protests against Sargsyan's candidacy for premiership. On Tuesday, the parliament elected Sargsyan as prime minister, while the protesters announced the beginning of a "velvet revolution" in the country.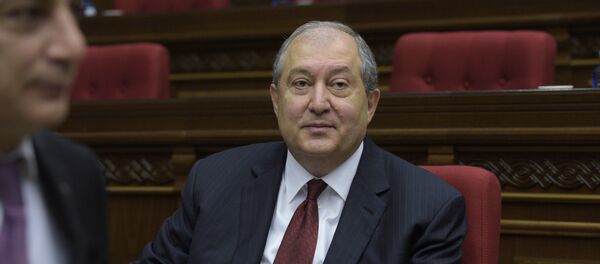 On Thursday, the protesters sought to blockade one of the government buildings ahead of the first government meeting under Sargsyan's chairmanship, but police pushed them away to enable the ministers to enter the building.
Sargsyan, who served as the Armenian president from 2008 until recently, had to step down due to presidential term limits. Armen Sarkisian was inaugurated as the new president on April 9 and became the first Armenian head of state who was elected by the parliament since the country switched from a presidential to a parliamentary system of government. Sargsyan's nomination for prime minister is largely regarded as an attempt to stay in power, since the newly amended constitution transferred some of the presidential powers to the head of the government.