Haspel, Trump's nominee for CIA chief, received a boost to her nomination bid Friday after the agency released a previously classified review dated December 20, 2011 justifying her work as chief of staff under National Clandestine Service director Jose Rodriguez.
The memo, written by then-CIA deputy director Michael Morell, confirmed that Haspel drafted the cable ordering the destruction of over 90 interrogation tapes, but said that she did so under orders from Rodriguez.
"I have found no fault with the performance of Ms. Haspel. I have concluded that she acted appropriately in her role as Mr. Rodriguez's Chief of Staff, including in her efforts to press for and facilitate a resolution of the matter, as well as in her drafting of the cable that authorized the destruction of the tapes," the memo reads.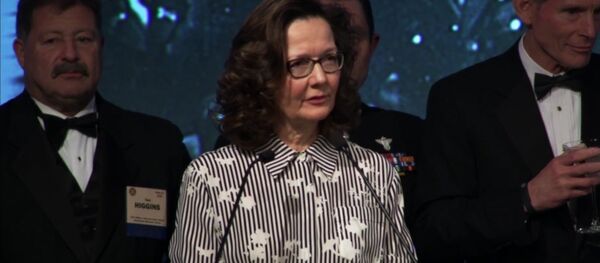 Morell goes on to say that Rodriguez would be issued "a letter of reprimand" which would "remain in his official personnel file for two years." No further sanctions would be applied against the officer, since his decision to destroy the tapes "was not motivated by any personal gain or interest," but "by what he believed to be the best interests of the CIA and its officers." This, according to the memo, included concerns over the personal safety of the interrogators and the "domestic and international standing" of the agency in the event that the tapes were ever leaked.
Haspel drafted a cable ordering the destruction of videotapes documenting the torture of two terror suspects at a Thai prison compound known as 'Cat's Eye' in 2005. There, one of the men, al-Qaeda suspect Abu Zubaydah, was subjected to waterboarding 83 times. Another detainee, Abd al-Rahim al-Nashiri, an al-Qaeda suspect accused of involvement in the bombing of the USS Cole, was waterboarded three times.
Lawmakers in the Senate Intelligence Committee raised concerns over Haspel's nomination for the post of CIA director over her role in the destruction of the tapes, citing it as their primary hang-up over her confirmation. Several members of the committee have pressed the CIA to declassify records related to Haspel's role at the agency.
Some senators said they would continue to oppose Haspel's nomination. Kentucky Republican Rand Paul said he would do "everything to stop" her selection on human rights grounds. Oregon Democrat Ron Wyden called Friday's declassified report "highly incomplete," and said that it "rais[es] far more questions about Ms. Haspel than it answers."
Haspel's confirmation hearing before the Senate Intelligence Committee is set for May 9.