Right now, demonstrators and police are negotiating, while the former have demanded that the deputies be released.
The police has sent units to Republic Square in Yerevan, where protesters have flocked, a Sputnik correspondent reports.
On-site special forces are on duty. It is reported that clergymen stood in between the protesters and the police several times during the opposition's march. They asked people to avoid violence.
Some demonstrators called on their supporters to gather in Republic Square in the center of Yerevan.
At the same time, First Deputy Prime Minister of Armenia Karen Karapetyan urged Armenian citizens to be vigilant.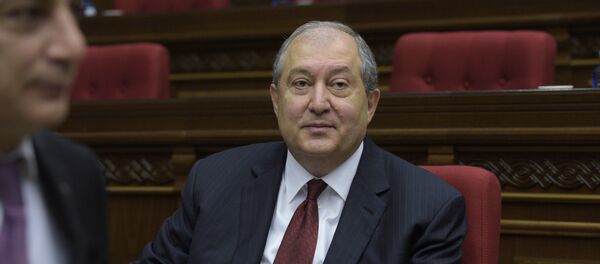 He said that he hoped to resolve the internal political situation in the country after the meeting between Prime Minister Serzh Sargsyan and the leader of the opposition movement Nikol Pashinyan.
Earlier, Sargsyan stated that he had no desire to apply coercive measures on protesters. The law enforcement agencies remain self-restraining and would not like "the proportionality of the forms of protests to be disrupted, so that the police were forced to use force," he said.
Since April 13, the Armenian capital has been hit by a series of protests against Sargsyan's candidacy for premiership.