Jeremy Corbyn is due to meet with Jewish leaders today to inform them of the measures he has implemented to combat anti-Semitism within the party's ranks.
The Labour Party has said there must be zero tolerance for anti-Semites in the organization, but Corbyn has faced criticism for not doing enough to address the matter. Two major Jewish groups – the Jewish Leadership Council and Board of Deputies of British Jews – previously warned that Corbyn has not been adopting the recommendations of a report which was published back in 2016 quickly enough.
READ MORE: J.K. Rowling Owns Twitter Users Attempting to Trivialize Anti-Semitism
The groups have called for officials who share a platform with anti-Semites to be purged. Additionally, they have urged the Labour Party to speed up disciplinary proceedings related to such offenses.
Jewish groups are also encouraging the Labour party to educate its members about anti-Semitism and provide a "clear list of unacceptable language."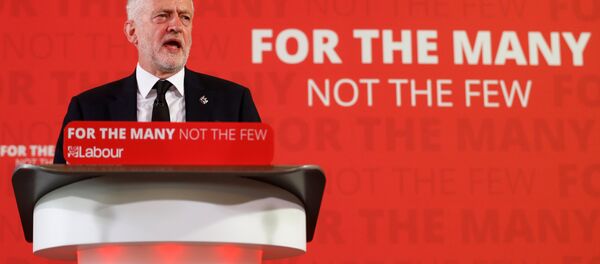 Although much of the party want the recommendations of the 2016 report, which was drafted by Shami Chakrabarti, to be put into effect, there are concerns that the expelling of politicians with any ties to anti-Semites could quickly turn into a "witch-hunt."
Co-chair of the Jewish Voice for Labour Jenny Manson voiced these concerns during an interview with BBC Radio 4 on April 24 and added that most anti-Semitic comments made to MPs were done via social media, with many of the offenders using anonymous accounts.
In a piece published in the Evening Standard newspaper today, Corbyn said "Anti-semitism is a poison that must be challenged" and "Hatred and bigotry towards Jewish people has no place in our society, whether on the streets or online. And that of course goes for the Labour Party too."
He also said that over 20 officials had been expelled from the party in the past two weeks due to anti-Semitic behavior, with many more currently under investigation.
"My party and I are sorry for the hurt and distress caused," Mr. Corbyn wrote in the Evening Standard.
He concluded his article by pledging to "not fail" the Jewish community.
"We cannot and will not fail our Jewish brothers and sisters now."
READ MORE: Israeli Labor Party Suspends Ties With Corbyn, Claims He Sanctions Anti-Semitism
Talks between Corbyn and other Jewish groups are scheduled on April 25, but some are calling for them to be boycotted due to the inclusion of a pro-Corbyn Jewish rights group.