The assistant secretary to Russian security council, Alexander Venediktov, said that the US attack against Syria is an example of disregard for the norms and principles of international law, and a challenge to the entire UN system.
The US joined by the UK and France carried out an attack on a number of targets in response the Douma that reportedly took place on April 7. According to the Russian Defense Ministry, the Syrian air defense managed to intercept 71 of 103 missiles launched by the members of the Western coalition.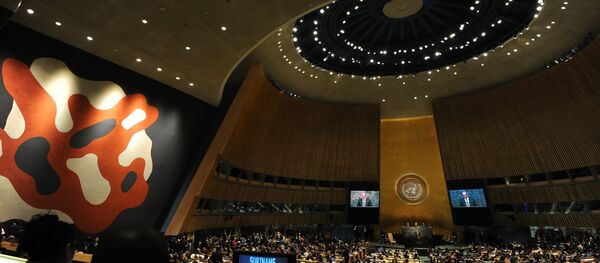 Damascus has strongly denied the accusations and said that the Jaysh al-Islam terror group staged the attack to justify potential foreign intervention in Syria.
READ MORE: Lavrov: Syria's East Ghouta Almost Completely Liberated From Terrorists
Russian officials have also condemned the attack, with Russian Defense Minister Sergei Shoigu calling the situation around the alleged chemical attack a provocation designed to derail the Syrian constitutional process. The strikes came on the very day, when experts from the Organization for the Prohibition of Chemical Weapons (OPCW) were to arrive at the site of the alleged chemical incident.
The Fact-Finding mission of the OPCW is currently deployed in Syria, probing into the reported Douma chemical attack.
The disagreements within the UN Security Council in relation to Syria have reflected in the council's recent failure to adopt either the Russian-drafted or the US-drafted resolutions on the alleged Duma chemical weapons attack.