Sputnik discussed US strategy in the Middle East with Dr. Harlan Ullman, Visiting Professor at the US Naval War College in Newport, Senior Advisor at Washington DC's Atlantic Council and author of the new book "Anatomy Of Failure — Why America Loses Every War It Starts."
Sputnik: In a joint press conference with the French president, Mr. Trump stated that he wants to bring US troops home from Syria but that he does not want to give Iran open season to the Mediterranean, do you think Mr. Trump is using this so-called Iranian threat to remain in Syria?
Dr. Harlan Ullman: That's a very good question, I think that because Mr. Trump is so impulsive and unpredictable it's hard to know what his strategy is, and in fact I think that one of the problems the United States has right now, quite frankly, is strategy towards that part of the world is very uncertain. The government has a strategy, the Department of Defense has a strategy but that's not necessarily the strategy that the president has, and I disagree with Mr. Trump's argument that the Iran nuclear deal is the worst deal ever.
READ MORE: Russia, China and Iran Need To Be Included in Any Talks on Nuclear Deal — Expert
If you read the deal very, very closely, if Iran conforms with that deal it will never obtain nuclear weapons and it seems to me that was the most important goal of this arrangement, and while from an American perspective Iran's meddling in the Middle East, in Iraq, Yemen, Syria and elsewhere, is a problem as well as their missile program, making sure that they don't have nuclear weapons is the top priority, and I think it would be a very sad mistake if we decided to abrogate or withdraw.
Because quite frankly the other participants in the agreement are not going to impose sanctions, and I think withdrawal will have achieved little, but Mr. Trump made a campaign promise and one thing we know is that he likes to honor campaign promises, as other presidents have done in the past, irrespective of whether they make sense or not.
Sputnik: Why is the US leader so opposed to the deal? Other signatories of the deal have been calling on President Trump to preserve the deal, moreover, the International Atomic Energy Agency said Tehran has complied with the agreement, so why do you think Mr. Trump so vehemently opposes the accord?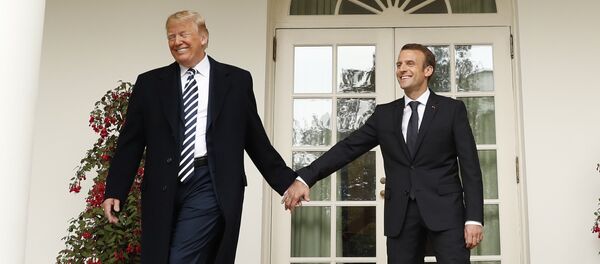 Dr. Harlan Ullman:
You'll have to ask him, I have no idea. He's also opposed to the Paris Climate Agreement which I think was a huge mistake and he also withdrew from the Trans-Pacific Partnership which was also a mistake. I have no idea why Mr. Trump opposes the JCPOA except that it was signed during the Obama administration and Mr. Trump's view is, I believe, that everything Obama did or the administration did is wrong and had to be reversed, and you see that in everything from healthcare to possibly the JCPOA.
The views and opinions expressed by Dr. Harlan Ullman are those of the speaker and do not necessarily reflect those of Sputnik.