A villa featuring a hot bath, instruments used in jewelry-making and mud-bricked workshops are just a few of historic artefacts found during excavation work aimed at digging tunnels for the city's subway. Most importantly, however, the digging has brought to light Thessaloniki's central highway, which dates back to sixth century, but has been preserved in an astonishing condition:
"We did not know such important urban changes had been carried out in this era, probably under (Byzantine Emperor) Justinian," Polyxene Adam-Veleni, head of the culture ministry's Thessaloniki antiquities department, told AFP.
"We were surprised to discover the road in such exceptional condition. This phase of the city's history was mostly unknown to us," she said.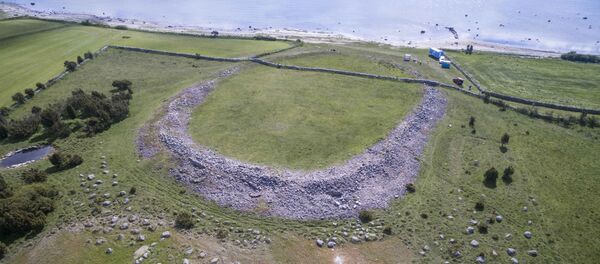 The villa with a hot bath, and, curiously, a gold ring found on its floor, are even older, dating to the late fourth century AD. According to archeologists, the latter could have been dropped by a lady, who had mistakenly taken it to the baths.
All in all, around 300,000 archeologically important objects, including 50,000 coins, have been found in the course of the excavation, besides two previously unearthed marble plazas, a 15-meter fountain and a Christian church from a preceding century.
READ MORE: The Wonderful Discovery of Homo Naledi, a New Twist in Anthropology
Along with the stone-paved highway, namely the Decumanus Maximus, archeologists also stumbled across the ruins of mud-bricked workshops where jewelers traded their goods, precisely in the same way as they still do. In a more humble discovery, as the crew pegged it, they found golden wreaths and body decorations in thousands of newly spotted graves and tombs, according to Polyxene Adam-Veleni. She went on to say that the unearthed grenade-shaped vessels raised many questions throughout the excavation process.
"Initially we couldn't figure out their purpose. Then we realized they were used to store mercury for the making of jewelry," she said.
Archeological Works or City Planning in Priority?
Although the subway construction was originally commissioned in 2003 to be rounded off by 2012, the project was paused due to a heated debate over how to best handle the antiquities that surfaced along the way. However, the government is pursuing both goals equally: improving the city's modern infrastructure and preserving the historic artefacts.
Slated to start operating in 2020, the estimated 1.5-billion-euro subway will at first offer trips around its 13 stations along a distance of 9.6 kilometers, equal to 6 miles, and will then head to the city's airport.
"The city was called to decide, metro or antiquities? This was a false dilemma… we are doing both. The city is discovering and showcasing its history," said Yannis Mylopoulos, the chairman of state subway builders Attiko Metro, a professor of civil engineering and former rector of Thessaloniki's Aristotle University.
Thessaloniki: Living History
The Greek northern city of Thessaloniki came into being in the fourth century BC and apparently bears the name of Alexander the Great's half-sister. It was essentially an important economic and trade hub in particular for the Roman Empire, which as years passed became the second most important city of the Eastern Roman Empire.
It continued to grow under Ottoman rule and saw thousands of Sephardic Jews arrive from Spain. Evidence of all three epochs is present in modern-day Thessaloniki; for instance, the ruins of Roman Emperor Galerius' palace, erected in the fourth century, include the Rotunda that served both as a church and a mosque.