New Delhi (Sputnik) — Amid rising border tensions with neighbors and a continued reliance on imported defense equipment, India has joined the US and China to become one of the world's five biggest military spenders, the Stockholm International Peace Research Institute (SIPRI) said in a report released Wednesday. SIPRI said that in 2017, India's defense spending rose by 5.5 percent to $63.9 billion which is now larger than that of France.
READ MORE: Russia May Supply India Forces With Armaments Tested in Real Warfare
"Tensions between China and many of its neighbors continue to drive the growth in military spending in Asia," Siemon Wezeman, senior researcher with the SIPRI AMEX program said in a statement.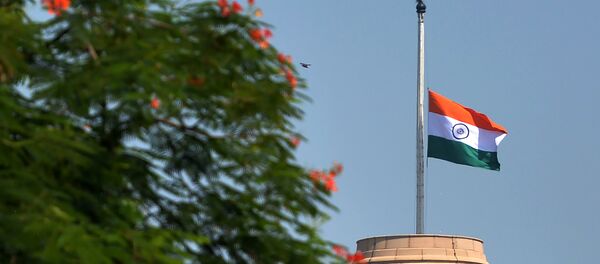 Worldwide military spending rose to $1.73 trillion, or roughly 2.2 percent of the global gross domestic product, a marginal increase of 1.1 percent in real terms from 2016. The list of the world's biggest military spenders is dominated by the US and China, which spent $610 billion and $228 billion respectively. 
"Continuing high world military expenditure is a cause for serious concern," SIPRI report quoted Ambassador Jan Eliasson, chair of the SIPRI Governing Board as saying. "It undermines the search for peaceful solutions to conflicts around the world," the report added.
Notwithstanding the fact that New Delhi continues to spend more on the military, a recent admission by the military official before the parliamentary panel is indicating most of the fund for defense spending goes to manpower resources and left little for modernization of the forces.
READ MORE: Indian Team Visits Russian Defense Facilities Amid US Sanctions Threat
"In the Army from the total Budget, 63 percent of our Budget goes into paying salaries. The normal maintenance and operational requirements work out to 20 percent and infrastructure take around three percent. Modernization gets a mere 14 percent which is grossly inadequate," Vice-Chief of Army Staff Lt. Gen. Sarath Chand said before the panel in February this year.
"Typically, any modern army should be one third in manpower, one-third in the equipment of the vintage category, one-third in the equipment of the current category and one-third in the state of the art category. As far as we are concerned, the state today is 68 percent of our equipment is in the vintage category, with just about 24 percent in the current, and eight percent in the state of the art category," Chand further added.