Atomwaffen Division is markedly different from other white supremacist groups that have emerged into American public consciousness in recent years. Groups like Identity Evropa, the recently-defunct Traditionalist Workers Party, Vanguard America and others have come into focus for holding public rallies, whereas Atomwaffen is far more secretive and smaller. Its members are actively preparing for a "coming race war" in the United States and training for guerilla warfare. Members exist in more than 20 states, according to Pro Publica, which viewed 250,000 private online messages obtained earlier in 2018.
It isn't clear where those messages came from, although far right networks on the video game messaging application Discord have experienced extensive leaks of their chat logs since the Unite the Right rally in Charlottesville, Virginia, that left one woman dead and 19 injured after a car driven by 20-year-old James Fields rammed into a group of marchers in August 2017.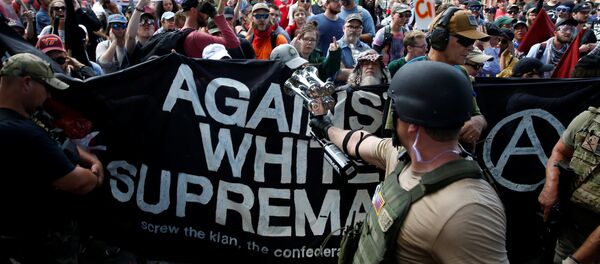 13 October 2017, 04:52 GMT
However, posts from Vasillios Pistolis, one of the active service members identified by Pro Publica, are available on Unicorn Riot, a media collective's website. Those are available because they were posted in chat logs for the Unite the Right rally, which were leaked to Unicorn Riot in late August 2017.
The newly uncovered leaked chat logs viewed by Pro Publica, in addition to now-deleted social media posts, paint a picture of Pistolis' aims and actions during the Unite the Right rally and the larger political goals of Atomwaffen, a paramilitary-style group accused of five murders since May 2017.
Meanwhile, a servicemember by the name of Joshua Beckett trained Atomwaffen on how to use firearms and hand-to-hand combat. He was a US Army combat engineer between 2011 and 2015, which he says woke him up "to race and the war woke me up to the Jews." Combat engineers are highly trained in the use of explosives. Beckett offered to assemble assault rifles for fellow members of Atomwaffen. Another service member in the group wrote that in Afghanistan he spent his time blasting "lead into sand n*****s."
Atomwaffen prioritizes recruitment of US military members and frequently puts them in leadership positions, as the group seeks train from those with battlefield experience, according to the group's chat logs.
According to a 2017 survey by Military Times, one in four US troops have encountered white nationalists in the ranks. Pro Publica has not named the other member of Atomwaffen they identified as current or former military personnel.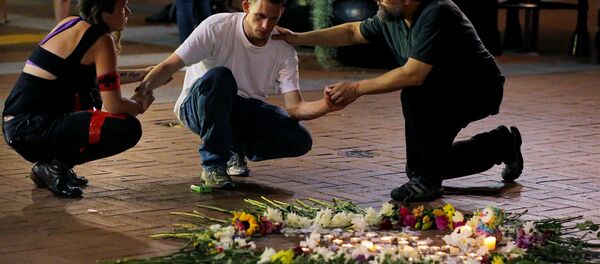 16 August 2017, 12:42 GMT
The group is so secretive that Pistolis, who took a leadership role and began running a North Carolina cell in the summer of 2017, was ousted from the group for bringing an Atomwaffen flag to a rally in Tennessee sometime after the violence in Charlottesville, as other members felt he was bringing unwanted attention.
The eighteen-year-old Pistolis bragged that he "cracked 3 skulls open with virtually no damage to myself," on August 12, 2017, in an online post following his participation in the now-infamous torch-lit march on the University of Virginia campus.
Pistolis had even designed a flag for Atomwaffen members to use in Charlottesville, which combined the stars and bars of the Confederate Battle Flag with a circular logo used by the Nazis called the Sonnenrad.
Pistolis was encouraged to sodomize leftist protesters in Charlottesville with a knife by others on the Atomwaffen Discord chat, according to Pro Publica. Pistolis responded that he was prepared to kill "if sh*t goes down."
At the torchlit march, Pistolis attacked Emily Gorcenski, a prominent organizer of the leftist counterprotest. He claimed in an online post to have "drop kicked" that "tr*nny" during the torch-lit march on August 11 at the University of Virginia in Charlottesville and posted a bloodied flag he'd taken, saying "not my blood."
Pistolis told Atomwaffen members that they could spot him in videos of the brawl at the Jefferson monument on the University of Virginia campus. Another member told him not to get caught doing "stupid sh*t" and warned him that he could face a court martial if he were.
Pistolis believed that Mark Conditt, the 23-year-old who conducted a series of bombing attacks on black households in Austin between March 2 and March 20, was a member of the Atomwaffen division. He wrote "not even going to lie, AWD [Atomwaffen Division] presence in Texas is so massive, if it was them it wouldn't be surprising, considering when they got doxxed their Discord records showed them talking about things like that," in a Discord chat published by Unicorn Riot. In another post, he said, "that bomber must have read 🅱eige," likely a reference to the book "Siege," which preaches waging guerrilla warfare against the US government and has become a manifesto for Atomwaffen, which Pistolis praised in separate posts.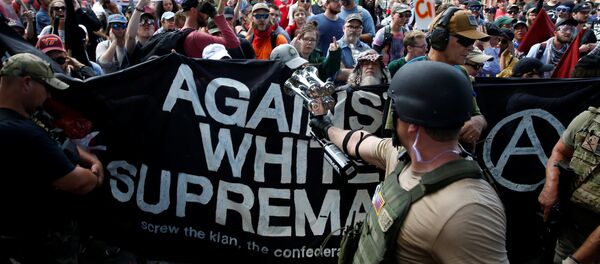 Pistolis also posted detailed instructions on battling leftists the neo-Nazi website Daily Stormer, which was taken off the regular internet and relegated to the deep web after the violence in Charlottesville.
Two photographs captured by a photographer for Getty Images show Pistolis beating counter protesters with a wooden flag pole. Again, Pistolis told his fellow Atomwaffen members that he'd "cracked a skull" and left "3 mother f*ckers bleeding."
Atomwaffen went relatively unnoticed until one member, Stephen Billingsley, harassed participants of a vigil held for the 49 people killed in the terrorist attack in the Pulse nightclub in Orlando, Florida, in June 2016. Billingsley wore a skull mask at the time, a sign of membership with Atomwaffen.
Atomwaffen's media exposure increased in 2017 after a series of brutal, politically motivated murders by some of its members made the news.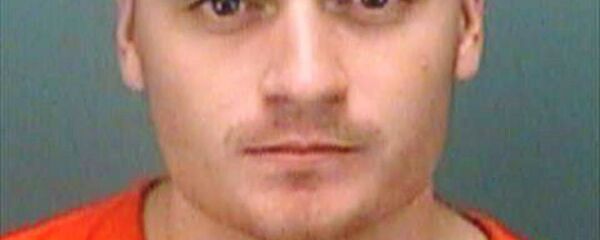 Devon Arthurs, who killed two of his roomates in May 2017, had actually met those roommates on Atomwaffen private chat rooms. He committed the murders after becoming a salafist, a traditionalist sect of Sunni Islam linked to extremist Islamist ideologies. A third roommate not slain by Arthurs, Brandon Russell, was brought into the limelight simply because of his proximity to Arthurs' crime — but then it was discovered that he'd founded Atomwaffen Division and was arrested after police found the garage of the home he shared with Arthurs stocked with bomb-making materials. Russell was a Florida National Guardsman who idolized Oklahoma City bomber Timothy McVeigh and admitted to holding neo-Nazi views. 
Another case that put the spotlight on Atomwaffen was that of a Virginia teenager who allegedly killed his ex-girlfriend's' parents after they warned her not to see him because of his neo-Nazi views. He was in the midst of joining Atomwaffen at the time of the killing. In California, 20-year-old Samuel Woodward, another member of the group, is accused of stabbing a gay Jewish student named Blaze Bernstein more than 20 times, killing him.