New Delhi (Sputnik) — After the southern state of Kerala and Kashmir in the north, the international terror outfit Daesh* is apparently trying to influence Indian youths in the northeast of the country. Flags and posters, bearing the inscription "Join ISIS," were recovered from two different locations in Assam during the last two days.  
On Friday, black posters with inscriptions in Arabic and the words "Join ISIS" written in English were found pinned to a tree in the Koihati area of Lower Assam's Nalbari district. 
​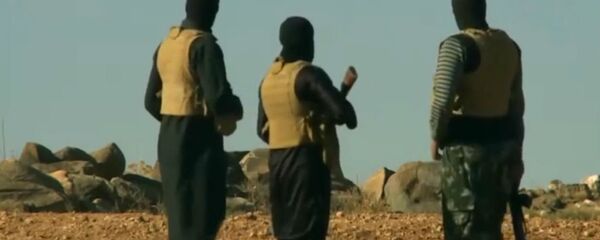 Earlier on Thursday, six black flags which had 'IS NE' (Islamic State North East) inscribed on them were found in Goalpara district of Assam.
"The flag is hand painted and someone has hung it on a tree. We are investigating the matter. So far we have not noticed any ISIS (Daesh) activities in this area. But we are investigating all aspects of the incident," Amitabh Sinha, senior superintendent of police told Sputnik.  
Assam: Black flags with 'IS NE' inscribed on them found near Goalpara town police outpost on the bank of river Brahmaputra last morning. Police has seized the flags. (02.05.2018) pic.twitter.com/tJSoDU8Eou

— ANI (@ANI) May 3, 2018
The flags were spotted by the morning walkers who then informed the police.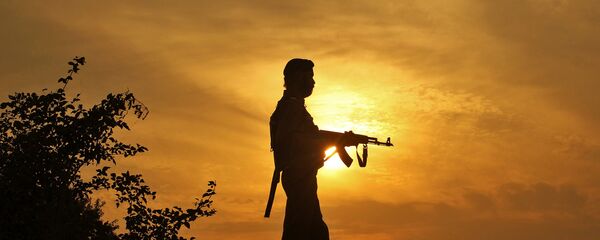 27 February 2018, 14:44 GMT
India's Intelligence Bureau has recently alerted Assam and other north-eastern Indian states about the possibility of terror groups planning to make the region their base, as it feared several missing local youths had left home to join terror outfits.
Growing influence of Daesh is a concern for Indian security agencies after Director General of Jammu and Kashmir Police S. P. Vaid last year admitted the presence of the terror outfit in the Kashmir valley.
READ MORE: Indian Police Arrest a Person Trying to Sell Wife to Daesh Terrorists
The southern Indian state of Kerala is another hotbed of ISIS ideology, where India's premier investigating agency, the NIA (National Investigation Agency), is investigating several cases of Daesh recruitment, funding, and people going to Syria and Afghanistan to join ISIS. The NIA suspects that more than 100 people from Kerala have joined Daesh so far.
*Daesh, also known as ISIL/ISIS/IS, a terrorist group banned in Russia and many other countries