Israeli Prime Minister Benjamin Netanyahu's presentation on Monday, where he claimed to have documented evidence of Iran's nuclear activities, comes just as the May 12 deadline looms for US President Donald Trump to decide whether or not to scrap an internationally-brokered nuclear deal with Iran and re-launch sanctions against the Islamic Republic.
The head of the Berlin Information Center for Transatlantic Security (BITS), Ottfried Nassauer, believes that the timing of Israel's statement was chosen perfectly and is not a coincidence.
"Mr. Netanyahu has obviously been trying to convince American President Trump and his new Foreign Minister Pompeo to do what they always wanted to — withdraw from the nuclear deal with Iran," the analyst said.
"The presentation of Mr. Netanyahu contained essentially known facts. It was about documents before 2003. But he did not present any evidence that Iran was still working on nuclear weapons after 2009," he added.
READ MORE: Israel Likely Fixed Intel Around US Policy Ahead of Attack on Iran Deal
According to the expert, Israel is seeking renewed international isolation of Iran jointly with the US. The first foreign trip of the new US Secretary of State and former CIA chief Mike Pompeo was to Israel last Sunday. The same day, Iranian military bases were bombed in Syria, allegedly with Israeli missiles.
"Israeli Prime Minister Netanyahu has long been viewing Iran as his archenemy and also as his best assistant in domestic politics. He knows that the Sunni Arab world is relatively positive when it comes to opposition to Iran. His presentation may have also served as a distraction from numerous domestic problems and the military strike that took place the night before in Syria, which Israel was possibly responsible for," the expert concluded.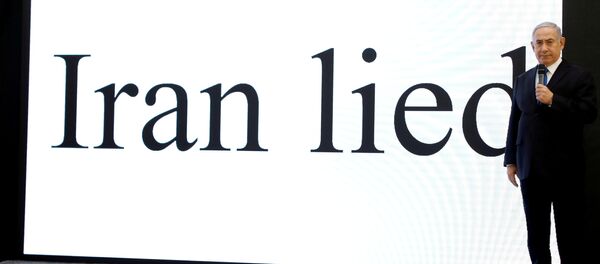 Relations between Israel and Iran have always been tense, with Tehran not recognizing Israel's right to exist. Israel claims that Iran has military forces in Syria that it intends to use against Israel. Tehran denies the allegations, claiming that it is only sending military advisors to the Arab Republic.
On April 30 it was reported that Iranian ammo depots in Hama and Aleppo had been attacked in an air raid by an unknown power. The Israeli Defense Forces have refused to comment on allegations that Tel Aviv was behind the attack.
The views and opinions expressed in this article are those of the expert and do not necessarily reflect those of Sputnik.