Yahya Rahim Safavi, a major general of the Islamic Revolutionary Guard Corps and aide to Iran's Supreme Leader Ayatollah Ali Khamenei, has declared that the United States helps transport Daesh* militants from the Middle East to Afghanistan, Tasnim news agency reports.
"The US authorities admitted that they created Daesh, and now we have proof of how they transport Daesh [personnel] to Afghanistan," he said.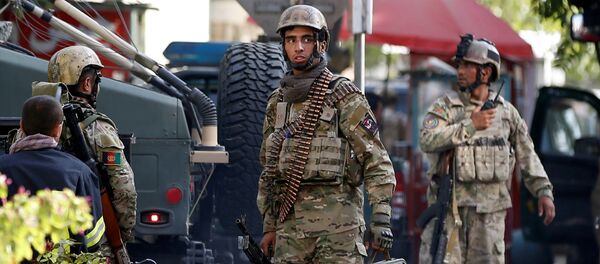 Safavi also said that Washington devastates the region with its actions, and that the US presence in the Middle East is not safe for everyone.
"If today Trump starts questioning the JCPOA (Joint Comprehensive Plan of Action), it is because of the setbacks he suffered in Iran. The Americans are now forced to withdraw from Syria and Western Asia, and they can't prevail over the great people of Iran," the Safavi remarked.
Mohammad Bagheri, the chief of staff of the Iranian Armed Forces, also voiced his suspicions about the US allegedly helping militants travel from the Mideast to Afghanistan, while former Iranian Defense Minister Ahmad Vahidi speculated that the "Western forces" are assisting the Daesh forces that were defeated in Iraq and Syria to relocate to Afghanistan and Central Asia.
Earlier US President Donald Trump had announced a new military strategy in Afghanistan that resulted in an increased number of airstrikes and more aggressive military actions, which has helped push the Taliban* back from several district centers and two provincial capitals.
READ MORE: 'Capture or Kill': Taliban Threatens to Attack US Forces in Afghanistan
It did little, however, to decrease the number of terrorist attacks that continue to rock the country on an almost regular basis; during the latest attack that took place on May 6 in the Khost province in Eastern Afghanistan, at least 12 people perished and 34 were injured during an explosion in a mosque.
For years, Afghanistan has been suffering from political, social and security instability due to the activity of terrorist groups, such as Taliban and Daesh, which have conducted numerous attacks against both civilian and military targets.
*Taliban, Daesh — terrorist groups, outlawed in Russia and a lot of other countries.