"IDF troops fired shots towards the terrorists, 3 of whom were killed. A bag that was found on one of the terrorists contained a camera, an axe, an oxygen mask, a cutter, and gloves. 2 petrol tanks were found next to another terrorist," the press service said on Twitter.
IDF troops fired towards the 3 suspects who attempted to infiltrate Israel from the southern Gaza Strip and to damage security infrastructure in the area of the security fence. Two suspects were killed

— IDF (@IDFSpokesperson) May 6, 2018
According to Jerusalem Post report, quoting the Police Foreign Press Spokesperson's office, Jerusalem border police have also arrested three teens on Sunday, who were throwing petrol bombs toward Ma'aleh Adumim highway.
Since March 30, Palestinians have been holding mass rallies near the Gaza Strip border, known as the Great March of Return. The demonstrators claim the right of return for people displaced during the war after Israel's creation in 1948.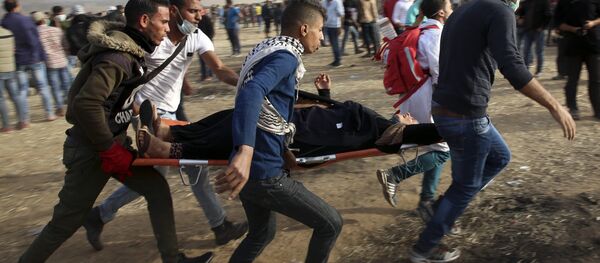 Dozens of protesters have been killed, and over 1,000 others have been injured as Israeli forces suppress the demonstrations with the use of force. The protesters intend to go on with the march until May 15, when they will commemorate the 70th anniversary of the displacement.