In a recent radio interview, Hungarian Prime Minister Viktor Orban said that the ruling Fidesz party was set to put emphasis on developing a "Christian democracy" in the country.
"We are working on building an old-school Christian democracy, rooted in European traditions. … We believe in the importance of the nation and in Hungary we do not want to yield ground to any supranational business or political empire," he said.
He has accused a number of non-governmental structures funded by the Hungarian-born US billionaire George Soros of political meddling and actively supporting immigration. He has on multiple occasions accused Soros, who has been promoting a policy of open borders for migrants in Eastern Europe, of exploiting his grand funds to buy himself leverage in Brussels and the UN.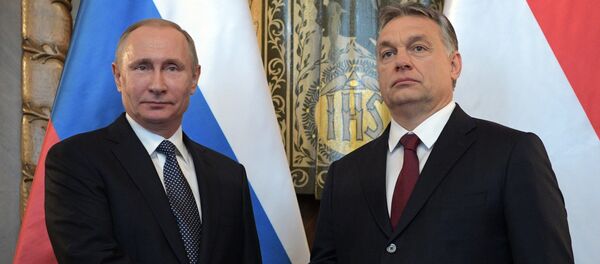 28 August 2017, 19:58 GMT
Orban has stated that organizations that deal with migration issues will be obliged to seek approval and clearance from the country's security bodies. Separately, in line with the so-called
'stop Soros" bill, which is expected to be soon adopted into national legislation, 25 percent taxation will apply to foreign donations flocking to NGOs that encourage migration and thereby pose a risk to national security.
In April, Orban's ruling coalition, comprising the conservative Fidesz party and Christian Democratic People's Party (KDNP), won 49.6 percent of the votes in the parliamentary election. Orban, who enjoys the support of large swathes of the electorate due to his emphasis on stability and national unity issues, has entered his third consecutive term as the Hungarian premier. The first parliamentary session under the new government is due to take place on Tuesday, when Orban will be officially re-elected prime minister.
On Friday, the prime minister raised the prospect of vetoing the EU's long-term budget proposal, contending that none of the bloc's money should go to migrants, adding that other countries' national budgets should cover migration-related costs.