The international economic summit organized by the Russian Federation and the Organization of Islamic Cooperation (OIC) was first held in Kazan in 2009 and has become the main economic cooperation platform between Russian regions and Islamic states. KazanSummit is held with support of the Russian Federation Council and the Tatarstan administration. The summit aims at strengthening trade, as well as economic, scientific, technical, social and cultural ties between Russia and OIC member countries.
READ MORE: Coexistence vs. Conflict: Why Muslims Thrive in Russia & Struggle in the West
Last year, KazanSummit was attended by 2,600 representatives from international organizations, public agencies, financial institutions, embassies and parliaments as well as investors and businessmen from 53 countries and 250 journalists.
"In today's world with its rapidly changing international processes, countries have to look for reliable economic partners. Due to the changing political course of the Russian Federation, cooperation with Islamic states is becoming more promising. The summit will serve as an effective platform for finding new clients and business partners as well as demonstrating investment potential and economic opportunities of the Russian regions. Halal Lifestyle will be the key topic of KazanSummit 2018," said a statement on the official website.
It is noted that the KazanSummit 2018 business program will also involve Islamic finance, partner banking, IT startups, blockchain, exports, social business responsibilities and public diplomacy among other things.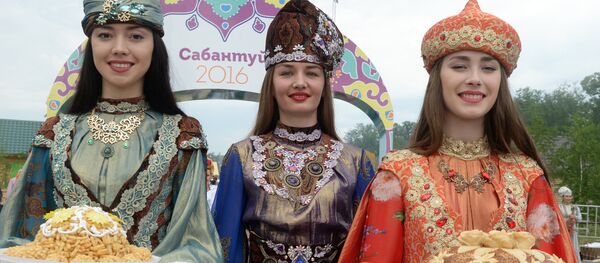 OIC secretary general Yusuf Al-Othaimeen, economy minister of the United Arab Emirates Sultan bin Saeed Al Mansoori, minister of commerce and investment of Saudi Arabia Majid bin Abdullah Al Qasabi, economy minister of Turkey Nihat Zeybekci, CEO of Dubai Islamic Bank Adnan Chilwan and vice president of the Islamic Development Bank Zamir Iqbal, as well as diplomats from 20 missions and representatives of the largest state companies, among other people, have confirmed their participation. It is expected that Russia will be represented by Deputy Foreign Minister Mikhail Bogdanov, the Foreign Ministry's Ambassador at Large Konstantin Shuvalov, Vnesheconombank chairman Sergei Gorkov, the head of the Tatarstan Republic Rustam Minnikhanov, the head of the Federal Agency for Tourism Oleg Safonov and some others as well.
New thematic sessions and the most effective panels that have already proven their effectiveness such as a conference of young diplomats from OIC member countries, a Sberbank business breakfast and the Kazan Forum for OIC young entrepreneurs are planned in addition to a plenary session and bilateral sessions. The Kazan Islamic Clothes festival of Muslim clothes and an Islamic cuisine festival will also be held as part of the summit.