"We recognize the very important and valuable work that the White Helmets are doing… They are, as he [Pennycook] says, doing this in horrendously difficult conditions. They are incredibly brave to be continuing with that work. We do support them, we will continue to support them, and my right honorable friend, the international development secretary will be looking at the level of that support in the future," May said.
During the parliament's session one of the lawmakers, Matthew Pennycook from the Labour Party, told May that the White Helmets continued to save lives of Syrian civilians despite permanent threats. He asked the prime minister whether the UK government was going to step up the funding for the organization.
READ MORE: Deeper Look at White Helmets: Syrian 'Civil Defense' NGO or Jihadists' PR Arm?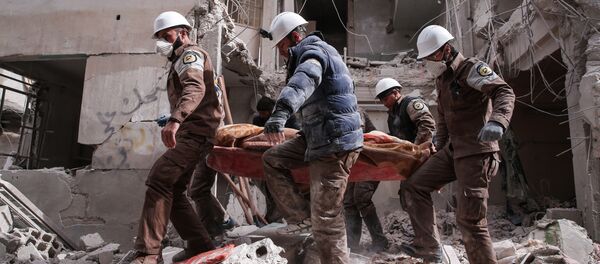 CBS news agency 
reported
 last week, citing the leader of the controversial group that the US administration had halted the flow of US cash, which amounts to a third of their budget, had stopped in recent weeks, almost two months after their delegation was hosted by the US State Department in Washington, DC.
Damascus and Moscow accuse the White Helmets of being involved in an alleged provocation in the Syrian city of Duma, which was portrayed as a chemical attack of the Syrian government.