"The United States… condemns the overnight violence that left at least two student demonstrators dead," Nauert said on Friday. "We call on the Nicaraguan government to respect the rights of protesters and to create the conditions needed for a credible dialogue, including the cessation of all violence." Nicaragua's government should allow independent international human rights organizations to assess the situation, Nauert added.
Nicarágua, povo destrói outdoor do ditador Ortega

A imprensa não mostra isso pic.twitter.com/eAhz1uHwAS

— GABRIEL PINHEIRO (@GABRlELPlNHElRO) 12 мая 2018 г.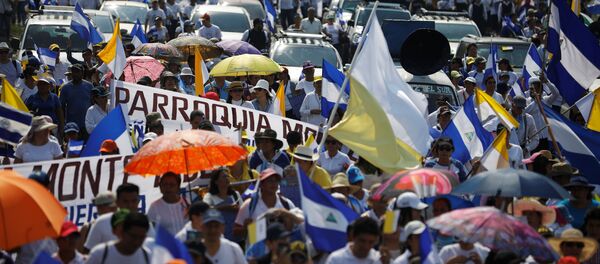 Meanwhile, at least five people have reportedly died in the past two days after another wave of violent protests swept the Central American nation this week, local media said.
According to the Univision television channel, two people, aged between 18 and 35, were shot dead Thursday in a police crackdown on student protests at two universities in Managua. A 55-year-old man died in hospital of a gunshot wound. Scores of people have lost their
Nicaragua has seen weeks of deadly protests against President Daniel Ortega and his policies, in particular in the area of social security, in the capital and other cities.