The US Treasury has sanctioned six individuals, including Valiollah Seif, the head of Iran's central bank, over alleged ties to the Islamic Revolutionary Guard Corps (IRGC) and the Hezbollah movement, which Washington considers to be a terrorist group. Iraq-based Al-Bilad Islamic Bank has also been included in the sanction list for allegedly moving millions of dollars on behalf of the IRGC to Hezbollah. According to the Treasury, the anti-Iran sanctions cuts off Tehran's use of critical banking network.
"Today, the US Department of the Treasury's Office of Foreign Assets Control (OFAC) imposed sanctions on the governor and a senior official of the Central Bank of Iran, an Iraq-based bank and its chairman, and a key Hezbollah official, all of whom have moved millions of dollars on behalf of the Islamic Revolutionary Guard Corps-Qods Force (IRGC-QF) to Hezbollah," the statement said.
The department noted that sanctions did not extend to Iran's central bank but would affect certain transactions by Iran, including those involving US dollars.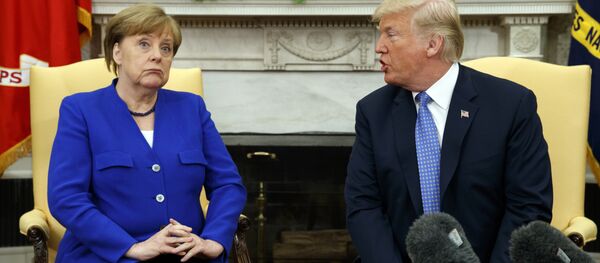 According to the Treasury's statement, the latest sanctions are a part of US President Donald Trump's "aggressive campaign" against the IRGS and build on the US decision to withdraw from Iran nuclear deal.
This is already the second batch of US' anti-Iranian sanctions since Trump's announcement on the pullout from the Iran nuclear deal, formally known as the Joint Comprehensive Plan of Actions (JCPOA).