Sputnik: Can you tell us in more detail about the issue you personally had with the Philip Cross figure?
George Galloway: There's a cluster of people who have certain things in common, some differences, but the things they have in common are defending Russia, for example, against unjust accusations and sanctions, supporting the Palestinian cause rather than the side of Israel, opposing American foreign policy in various places, opposing British foreign policy, you can get the picture I'm sure.

7 December 2017, 10:58 GMT
We are a group of some 60-70, we don't know each other for the most part, but we have another thing in common, we all attract the unremitting attention on Wikipedia of this Philip Cross who claims to be a real person, though I'm investigating this quite hard and forensically right at this moment, and if he's a real person rather than a robot, then he's the […] taxi driver, the stalker of the internet, because I can tell you that this man has made an average of 175 edits every day for the last 15 years, just imagine the number that that rises to, in my own case 2,000 edits in one page of Wikipedia, by one man, and, of course, they're not flattering alterations that he's making, they are the deletion of anything positive and the insertion of any wild and fanciful claim that Mr. Cross, if that's his name, can come up with.
[…] I can't say right now for legal reasons exactly who we think this is, but we do think it's a person for whom consequences will be severe. But the bigger picture is Wikipedia itself, how can you have what purports to be an encyclopedia, which can be altered at will by a selected number of other members of the public.
READ MORE: Win in Court: Wikipedia to Challenge NSA Surveillance
I have never looked at my Wikipedia page because I knew that it would be a playground for people like Philip Cross, but there are many gullible people in the world, many millions of them will go to Wikipedia imagining that they will find something approximating to the truth about the person they're looking up, and that comes out not to be true at all.
Sputnik: Why do you think that the figure targeted is targeting anti-war pundits and politicians?
George Galloway: It's clear that it's systematic, but it's also on the industrial scale, the numbers I just gave you are truly industrial in scope. This person, if it's a person, is doing this at 3 and 4 o'clock in the morning and is doing it on Christmas day, he's doing it in an obsessive way that ought to have attracted Wikipedia's attention long before this, but they have brushed off our concerns, so either this is a deep state operation and that there's not one Philip Cross and that there are many Philip Crosses, and he is set at, he's targeted at people who are effectively regarded as enemies of the state in a democracy with no accountability or parliamentary oversight at all.
READ MORE: Galloway: Would Be Perfect Storm for British Politics if Rees-Mogg Leads Tories
I was myself a member of Parliament for almost 30 years and here I have someone who is day and night, and thousands of times making entries and deleting content from my Wikipedia page, and there are many like me. Ken Livingstone, the former mayor of London, has had a similar level of attention from Philip Cross, they moved on from John Pilger, the campaigning journalist, and are now doing it on the Wikipedia page of John Pilger's children.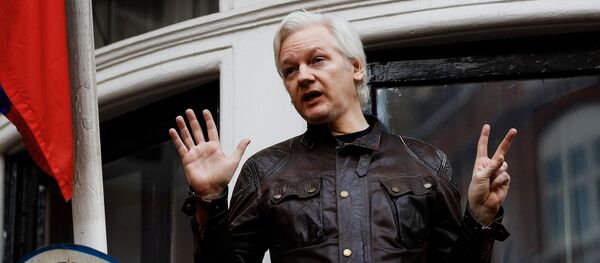 This is either a madly obsessive, to the point of being potentially dangerous, and a matter for the police I would have thought, or it is a group of people who are either working directly for the state or certainly if they're not, they might as well be because they are directly serving the state narrative, and all of this comment in a country, which we're constantly told by our government, is some kind of a bastion of freedom of speech, freedom of expression, democracy and apple pie, it would be laughable if it were not so disturbing.
The views and opinions expressed by the speaker do not necessarily reflect those of Sputnik.