Haspel was confirmed despite strong opposition over her extensive involvement in the CIA's use of extreme interrogation methods, including waterboarding, following the September 11 attacks. Haspel also played a key role in the destruction of evidence of torture by the CIA. 
According to an email obtained by The Intercept, prior to Haspel's confirmation, a US Navy reserve officer reached out to Virginia Sen. Mark Warner to oppose her nomination, stressing that the interrogation methods used on one high-profile prisoner under Haspel's supervision were "unusually cruel and designed to break him."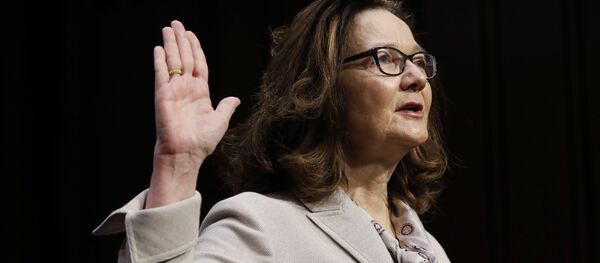 "I have evaluated Mr. Abdal Rahim al-Nashiri, as well as close to 20 other men who were tortured as part of the CIA's RDI [Rendition, Detention, and Interrogation] program. I am one of the only health professionals he has ever talked to about his torture, its effects, and his ongoing suffering," Dr. Sondra Crosby, a professor of public health at Boston University, wrote to Warner's legislative director on Monday. "He is irreversibly damaged by torture that was unusually cruel and designed to break him. In my over 20 years of experience treating torture victims from around the world, including Syria, Iraq, and the Democratic Republic of Congo, Mr. al-Nashiri presents as one of the most severely traumatized individuals I have ever seen."
Nashiri was detained in Dubai in 2002 and eventually taken to the CIA blacksite in Thailand known as Cat's Eye, which was run by Haspel from October to December 2002, the outlet reported. Nashiri, who is being held at the Guantánamo Bay prison, is suspected of being involved in the bombing of the USS Cole in 2000.
Haspel has since stated that she's changed her ways and that "the enhanced interrogation program is not one the CIA should have undertaken." However, the 61-year-old has not exactly stated that torture tactics, such as waterboarding, were immoral.
Arizona Sen. John McCain, who is currently battling cancer, was not present for the vote. Leading up to the confirmation, McCain called on officials to not vote for Haspel, saying that approving her would send the wrong message.
Haspel, a 33-year veteran with the spy agency, was serving as its acting director before being confirmed. Haspel took over for former CIA Director Mike Pompeo when he become US secretary of state in late April.