On order of a court in Ukraine's city of Kherson, Kirill Vyshinsky has been arrested for 60 days without bail on charges of "treason" and for supporting the self-proclaimed Donetsk and Lugansk People's Republics in Ukraine's southeast.
Independent Polish journalist Stanislaw Remuszko said that freedom of speech is the backbone of democracy and the most important thing in life.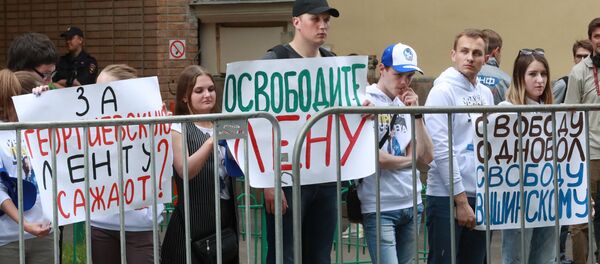 "I have been working as a journalist for more than 40 years now and I believe that expressing one's mind, even if it differs from that of the powers-that-be, is our sacred right. Saying only what the government wants to hear has nothing to do with free speech. If they arrested Kirill Vyshinsky only because he said things Ukrianian authorities don't like, then he had every right to do so and is not to be punished, let alone arrested, for doing that," Remuszko said.
In an interview with Sputnik, Turkish journalist Okay Deprem, one of many reporters banned from entering Ukraine until 2019, lambasted the Kiev authorities for ordering searches in the RIA Novosti offices and the arrest of Kirill Vyshinsky.
"What is happening reflects, first and foremost, a blatant violation of the principles of press freedom and media representatives' legitimate immunity from prosecution," Deprem said.
He mentioned the official pressure on journalists working in Ukraine, which has been mounting over the past four years.
"Two days ago, the whole world had a chance to see a scandalous incident happening in Kiev, which is one of the biggest European cities, an incident which outraged each and every democratically-minded person everywhere. What is happening is a fresh example of the undemocratic policy towards journalists, which is being pursued by the Kiev authorities," Okay Deprem emphasized.
Mark Taliano, an independent investigative reporter and author of the book "Voices from Syria," cited international criminal lawyer Chris C. Black as saying that Vyshinsky's arrest occurs at about the same time that the Kiev regime invaded the home of Petro Symonenko, head of the Communist Party, subsequently interrogating him for seven hours.
Clearly, the Kiev regime equates "treason" with freedoms of speech, freedoms of association, and freedoms of the press, Mark Taliano wrote.
"The West itself has also forfeited its freedoms, but its methods for achieving these ends are more sophisticated.  Consent for the most criminal agendas is typically engineered by a controlled media, and puppet politicians. Whereas the perception of freedom still lingers in the West, Kiev has forgone the niceties," he added.
The President of Brazil's National Federation of Journalists, Maria Jose Braga, was equally incensed by what is happening to Kirill.
"First of all, I, as the president of FENAJ, want to say that we support the demand by the International Federation of Journalists and the Russian Union of Journalists for the immediate release of Kirill Vyshinsky. It is inadmissible for a democratic country to detain and arrest journalists for doing their job. [Vyshinsky] is working for a new agency, which means that he has every right to obtain information and this right must be respected to ensure the freedom of the press and professional journalists' right to do their job," she noted.
The founding member of Egypt's Media Freedom Observatory, Mona Abdelhadi, said that the situation around Kirill Vyshinsky was creating a dangerous precedent with regard to the work of international news agencies.
"We need to launch an international probe and bring to justice all those who stormed into the RIA Novosti office, and also those who ordered this, be it even the prime minister or the president," she pointed out.
In an interview with Sputnik, Egyptian journalist Ahmed Abdel Dahab described the detention of the Russian journalists in Ukraine as "a shock, because Kiev says it is a country which respects freedom."
"My opinion is, however, that democracy is now on the wane there," he added.
Iraqi journalist Ahmed al Safi told Sputnik that "the Ukrainian forces' assault on the RIA Novosti office and the arrest of the Russian journalist Kirill Vyshinsky is an act of aggression against the democratic values Kiev likes to talk about."
"And what do we see happening in Ukraine? They are killing press freedoms under the pretext of having disagreements with Russia. "There is no justification for this, even if you have some problems in political relations," Ahmed al Safi emphasized.
Head of the RIA Novosti Ukraine news portal Kirill Vyshinsky was detained in Kiev on Tuesday.
On the same day, the Ukrainian Security Service (SBU) broke into the office of RIA Novosti Ukraine in Kiev.
Simultaneously, the SBU issued a statement claiming that "a network of media structures, which Moscow has used for carrying out a hybrid war" against Kiev had been exposed.
READ MORE: Vyshinsky's Arrest is 'Gross Abuse of All Democratic Norms' — German Politician
Also on Tuesday, OSCE Representative on Freedom of the Media Harlem Desir expressed concern over the searches at the RIA Novosti's office.
On May 16, the International Federation of Journalists called on Ukrainian authorities to immediately release Kirill Vyshinsky and described Kiev's actions as inadmissible.