Maduro's primary challenger is Henri Falcon, a former governor of Lara state and a former member of Maduro's own United Socialist Party of Venezuela (PSUV). Falcon founded the Progressive Advance party, politically allied to the opposition Democratic Unity Roundtable (MUD) party, in 2012. The only other challenger is Javier Bertucci, running as an independent. He's a politically conservative evangelical preacher, according to the UK Independent.
​Despite the election and Venezuela's democracy, host Brian Becker noted that the New York Times headline on the event heavily implied that Maduro is a dictator and that the election threatens to topple him.
"If Venezuela were a dictatorship, it wouldn't be having a presidential election," Koerner pointed out.
"Nicolas Maduro was actually elected to a six-year term on April 14, 2013, which, you know, expires on January 10, 2019, so he'll be serving out his constitutional mandate, which is conveniently forgotten by the mainstream media," Koerner noted. Maduro, who was vice president from 2012 to 2013, became president when Hugo Chavez died of cancer complications March 5, 2013. The Venezuelan constitution mandated that an election be held within 30 days, and Maduro narrowly won with 50.6 per cent of the vote, just 1.5 per cent difference from his rival, Henrique Capriles of MUD.
"The mainstream media just parrots the opposition line, they wanna have their cake and eat it, too. They want to delegitimize the election, but at the same time they want to paint Henri Falcon, who is the opposition frontrunner, as this champion of democracy, so in case he wins, they'll recognize the election," Koerner theorized.

With two of its national leaders, Leopoldo Lopez and Capriles, unable to run in the election for various reasons, MUD chose to boycott the elections, which were originally scheduled for April 22, calling them "fraudulent," Reuters reported. Falcon's party broke their alliance with MUD in order to enter the election.
"Henri Falcon is seeking to promote a high turnout for this election to try and defeat Maduro, but the reality is the opposition has shot itself in the foot because all the main opposition parties have called for a boycott and are actively attempting to undermine this candidate."
Koerner noted that opposition supporters are "militantly against this candidate."
The Miami-Herald recently put Falcon on blast, calling him a "traitor to Venezuela" on May 2, heavily insinuating that Falcon is an illegitimate opposition leader whose basis of support is "Wall Street bondholders" that seek a cooperative government "who they hope would guarantee future payments of Venezuelan bonds." The Herald noted that "Falcon's top economic adviser is Harvard-graduated economist Francisco Rodriguez, chief economist of Torino Capital, a New York financial firm focused on Latin American emerging markets."
However, the question on everybody's minds is: Who is going to win?
"I think Maduro is going to win," Koerner said, "but the question is, by how much, how many votes is he going to get, because it's not just that the opposition is boycotting, it's also the fact that the opposition is divided… the fact is that Falcon is not a nationally renowned, nationally known figure. He's very uncharismatic, he just lost his reelection bid in October by a landslide, so he's not viewed as someone — and you know, he's being actively delegitimized by the opposition."
"But the question is Maduro, how many votes is he able to mobilize? He definitely has a floor of, say, 6, 6.5 million votes, I would say at least, probably 7. But he's promising 11, he was trying to get over 50 per cent because that's what he needs to really ensure his legitimacy. That would be a massive blow to the United States and the opposition if he were to win that, but it remains to be seen whether he can mobilize those numbers."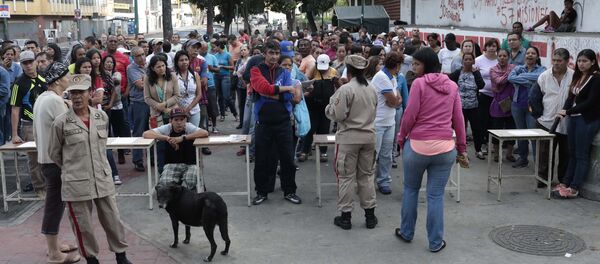 In the elections to Venezuela's Constituent Assembly last July, 41 per cent of the voting population, or just over 8 million people, turned out to vote, with much of the opposition abstaining from that vote as well, TeleSUR reported at the time.
Becker predicted that if Maduro wins, and especially if he gets more than 50 per cent of the vote, that the opposition and the West will claim the election is fraudulent. He asked Koerner if he agreed.
"I would say no reason not to expect that, given that every other election they have cried 'fraud'… they already announced it in advance, they are not going to recognize the result of this election. Unless through some unexpected possibility… Falcon manages to win," Koerner said.
"Even if he were to win, that would present a very interesting scenario, because I'm not sure they even want to work with Falcon, because, you know, the United States reportedly threatened to sanction Henri Falcon for violating the opposition boycott so he's not… their man."
Becker asked Koerner about economics in Venezuela, particularly inflation and oil prices. "If Maduro prevails, what will the government do to get control over and improve the economic situation?"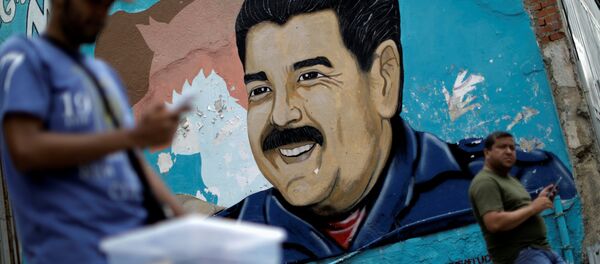 "Maduro's campaign promise is 'vote for me on May 20 and I will resolve the economic situation.' The problem is, you know, he promised the same thing last July after the National Constituent Assembly elections, yet they didn't take measures. They're very risk-averse. But perhaps with this election, if they win the presidential election, they'll have won the mayoral elections, they would have won the governorship elections, there are no more elections they could possibly have, they can't continue to kick the can down the road and they will really need to take decisive economic measures."
Koerner noted that ahead of May 20, Maduro had signed deals with Turkey to import food and that a victory would likely solidify the confidence of countries like China and Russia that could provide Venezuela with important investment and trade deals.