Responding to President Trump's call on America's allies to contribute more to the fight against the Taliban, Britain plans to bring the number of its troops deployed in Afghanistan to over 1,000, The Independent wrote.
According to the newspaper, Defense Secretary Gavin Williamson has advised Prime Minister Theresa May to boost the British military presence in the war-ravaged country.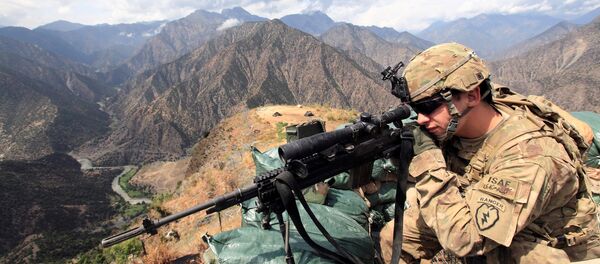 29 August 2017, 10:30 GMT
If Williamson has his way, 450 more British soldiers could be heading to Afghanistan in addition to the 650 already deployed there in non-combat roles.
This may not be enough, however, with a former UK commander in Afghanistan, General Richard Barrons, warning that since the decision to wrap up combat operations in Afghanistan by the end of 2014 "hasn't worked," even more troops may be needed on the ground.
In an interview with BBC Radio 4's Today program, Barrons said that the extra troops would "send an important message to our allies" that they should do more, while simultaneously sending a clear signal to the Taliban that "they will never bring this fight in Afghanistan to an end by fighting, they have to resort to dialogue."
He added that even more needs to be done, including British troops leaving their bases to join Afghan forces in combat operations.
"I absolutely think, if we are going to make a meaningful contribution, we will have to find the courage to train, advise, assist and accompany them into action," Richard Barrons said, adding that even though this could be risky, "that's how you make a difference."
With around 4,000 troops reportedly added to the 8,400-strong US military contingent in Afghanistan to prevent a Taliban takeover of the country and to target Daesh, al-Qaeda and other terrorists groups.
NATO has been boosting its military presence in Afghanistan and has pledged to continue providing support to the Afghan government to help it ensure the country's security.
READ MORE: UK 'Putting Political Break' on Sending Troops to Support US in Afghanistan
The alliance has also urged the Taliban movement to accept the Afghan president's proposal, who in February offered to hold peace talks with the militants.
The US in particular has increased its presence in Afghanistan since President Trump unveiled his South Asia strategy in August last year. The strategy is focused on airstrikes to disrupt the Taliban while empowering local security forces to finish the fight against them on their own.
For fiscal year 2018, Congress appropriated $4.9 billion to support Afghan security forces, compared to $4.2 billion in the previous year and $3.8 billion in 2016.