"No one can force Iran to do this. As long as there is terrorism and the government of Syria wants it, Iran will have a presence [in Syria]. Those who entered the country without the permission of the Syrian authorities must leave," representative of the Ministry of Foreign Affairs of Iran Bahram Kasemi stated as quoted by Tasnim.
The announcement was made in wake of the statement by Russian President Vladimir Putin at a meeting with Syrian President Bashar al-Assad on May 17: the president declared that due to the success of the Syrian army's fight against terrorism and the beginning of the political process, foreign military forces should be withdrawn from the Arabic Republic.
READ MORE: Syrian Army Frees Palestinian Refugee Camp Yarmouk Near Damascus - Source
As presidential spokesman Dmitry Peskov explained later, a number of foreign armed forces, currently present in Syria, can leave the country at the beginning of the political process, since they have no legal basis to stay there. The Russian president's special representative for Syria Alexander Lavrentiev said that the entire foreign contingent should be withdrawn from Syria, including the troops of the United States, Turkey and the Lebanese Hezbollah forces, specifying that the Russian troops to remain as they were deployed with Damascus' consent.
Troops Present on the Ground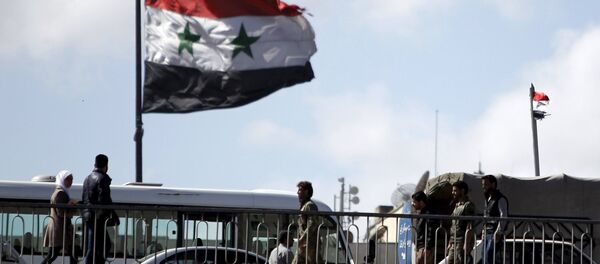 Several major forces are present on Syrian soil: the US-led anti-Daesh international coalition, launching airstrikes in the country since 2014 without Damascus or by the UN's approval. The US is also allied with some groups of Kurdish militants, such as the Syrian Democratic Forces. At the present moment, at least 2,000 US servicemen are deployed in Syria.
According to the SDF forces, the US-led coalition forces have been stationed in the city of Manbij in northeastern Syria since it was liberated from Daesh militants two years ago.
READ MORE: Russian Military Finds Syrian Militants' Depots With NATO Weapons
The US president had been mulling over withdrawing troops from Syria, but after he met strong opposition from US officials, including special envoy to the US-led coalition Brett McGurk, as well as incoming US Secretary of State Mike Pompeo and Joint Chiefs of Staff Chairman Joseph Dunford, he decided to keep the forces in Syria for some more time.
READ MORE: While Trump Wants Pullout From Syria, Officials Reportedly Advise the Opposite
*Daesh (also known as ISIS/ISIL/IS) is a terrorist group banned in Russia