Peru secured the last place in the World Cup list of teams, when they beat New Zealand and won 2-0 over two legs in the intercontinental play-off.
Enrique's national football team hasn't had success in going through to the championship since 1982, when the World Cup was hosted by Spain and Peru played against Cameroon, Italy and Poland but didn't make it past the group stage.
© Photo : Enrique de la Lama
Peru football fans gather in Lima in support of their national team ahead of the World Cup in Russia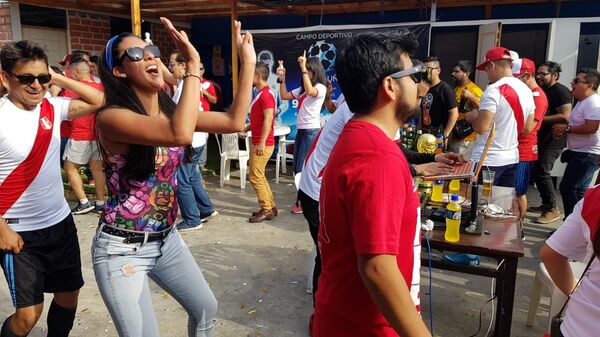 Peru football fans gather in Lima in support of their national team ahead of the World Cup in Russia
© Photo : Enrique de la Lama
A lawyer and a long-time football fan, Enrique told Sputnik that after he attended the 2014 World Cup in Brazil, he decided to keep up the tradition and attend future tournaments.
He has now booked his tickets to Russia and will support his team during the Peru vs Denmark match on June 16 in Saransk, the capital of Russia's Republic of Mordovia. He will also watch Peru play against France in Yekaterinburg on June 21. To see each match Enrique will travel by train, with the trip from Moscow to Saransk lasting 8 hours, while the journey from Moscow to Yekaterinburg set to take 27 hours.
"The World Cup organizers are offering free train travel to ticket holders. I have already applied for my FAN ID but I will pick it up in Moscow instead of having it mailed here. I don't trust the mailman."
READ MORE: Russia's FAN ID for FIFA World Cup a Hit Among Football Lovers, Travelers
'Brazil the Strongest, Germany Pretty Good Too'
Apart from Peru, Enrique will also be supporting other South American teams, like Brazil, Colombia, Argentina and Uruguay.
"I will also cheer for Spain, Croatia and Russia. I am a football fan, I enjoy football."
© Sputnik
2018 World Cup Groups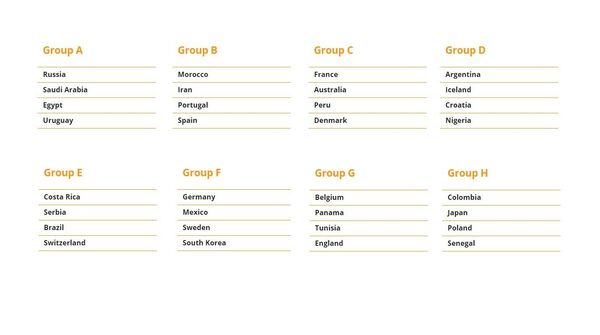 2018 World Cup Groups
Peru will face Denmark, Australia and France in the games of Group C. Enrique believes that Denmark and Australia won't go through to the next stage. His prediction of the winner narrowed down to the Brazilian team.
"I have no doubt that Brazil will win the World Cup. Brazil is full of history. They are the strongest. They have Neymar. Germany and all its squads are pretty good but there are too many options there. I don't think they will make one great team."
'Sad' Over Guerrero
When it comes to his Peru's national team, Enrique explains that the forward Jefferson Farfan, who currently plays in Lokomotiv Moscow, is a strong player "in great shape."
"He was the best player in Lokomotiv and the team won the Russian Premier League this year."
Enrique also expects a lot from Alberto Rodriguez, the captain of the Peruvian national team, and Edison Flores. "He's my guy. He is my favorite player in the Peruvian team," Enrique told Sputnik.
In 2017 FIFA has suspended the team's captain Paolo Guerrero for failing a doping test, which led to him missing the World Cup when the Court of Arbitration upheld an appeal by the World Anti-Doping Agency to extend an already-served six-month ban. Guerrero tested positive for benzoylecgonine, a metabolite of cocaine, which the striker blamed on contaminated tea. Guerrero, a striker for the Flamengo sports club, has scored 32 goals in 83 internationals.
"Right now we are very sad. It is a national trending topic, all around the news — about how severe FIFA is to ban Guerrero from the World Cup. But I hope the national team will be strong, will get through this and will be on the top of their game," Enrique told Sputnik.
The world players' union FIFPro said it had written to FIFA to request that Guerrero be allowed to participate in the tournament.
The Whole World in Russia
Enrique, a fan of Russian culture and history, is planning to museums, opera and ballet during his stay in Russia.
"I think Russian people are going to be like Peruvian people, friendly and open. It's the World Cup, it's a special kind of mood. I'm pretty excited to see the locals' reactions. I think they will be excited to have us and I am not talking about just Peruvians, but the whole world. The whole world is going to be in Russia."
World Cup volunteers in Yekaterinburg
© Sputnik / Pavel Lisitsin
/
READ MORE: Destination World Cup: Egypt Football Fan Ahmed & His Game Plan in Russia
In Russia Enrique will be joined by his brother-in-law, who lives in Barcelona.
"We are having some other friends who are coming from Peru. There are a lot of Peruvians going to Russia, over 40,000. It is crazy. If Peru wins, I can't even imagine, it will be crazy. To be honest, after the group stage, anything can happen — anything! It's one game that separates you from the next phase, once you advance from your group. Peru can end up playing with anyone. Peru can play and Peru can win. If you are France, Denmark and Australia and you are not on the top of your game — you're going to have trouble with Peru," Enrique told Sputnik.
As it is getting closer to the World Cup, Enrique is in active preparation for their trip and is even learning some Russian phrases. When asked what tips he has for his fellow football fans around the globe, he told Sputnik:
"My main advice is — have fun. It's going to be a lifetime experience. Be safe, have fun and enjoy the World Cup!"