"The Council for Civil Society and Human Rights under the President of the Russian Federation appealed to Council of Europe Commissioner for Human Rights Dunja Mijatovic in connection with the detention of the editor-in-chief of the RIA Novosti Ukraine agency, Kirill Vyshinsky," the council's statement said.
The document called the charges against Vyshinsky ungrounded.
Vyshinsky was detained in Kiev on May 15. He is suspected of supporting the self-proclaimed Donbas republics and high treason.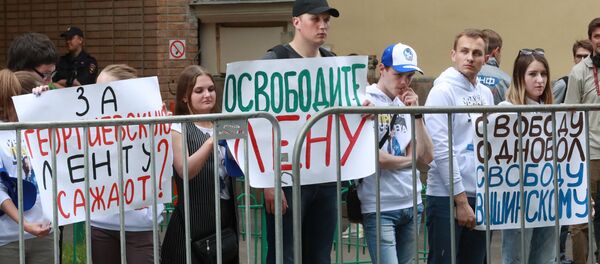 On May 16, the International Federation of Journalists called on Ukrainian authorities to immediately release Kirill Vyshinsky and described Kiev's actions as inadmissible.
On May 17, the Kherson City Court decided to place Vyshinsky in pre-trial detention for 60 days.
Simultaneously, the SBU issued a statement claiming that "a network of media structures, which Moscow has used for carrying out a hybrid war" against Kiev had been exposed.
Russia's International News Agency Rossiya Segodnya has launched a Twitter hashtag #TruthNotTreason in support of RIA Novosti Ukraine news portal head Kirill Vyshinsky, arrested in Ukraine.