"The presence of activists supported by Russian institutions seems to be proved, [which was reflected] in the media coverage of the conflict in Catalonia throughout 2017, which broke out following deviation from constitutional legitimacy by certain Catalan autonomous institutions," the report read, albeit without providing evidence.
The report added that Spain, as well as a number of other states, became a victim of "cyberwars." The information that was spread in the media and across social networks was "used by representatives of government institutions in their destabilization efforts," according to the report.
READ MORE: Catalan Ex-Leader Considered Escaping to Russia Before Arrest in Germany
In November, Spanish Foreign Minister Alfonso Dastis said that there was suspicious traffic from networks whose distribution points were located in Russia and Venezuela. Dastis then added that the situation with the suspicious traffic would not provoke a crisis in relations between Moscow and Madrid. Prime Minister of Spain Mariano Rajoy has also claimed that fake news about Spain came from Russia.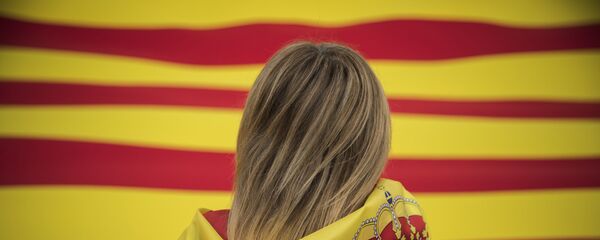 21 December 2017, 15:48 GMT
Moscow has called on Madrid to present solid facts proving Russia's interference in the Catalonia crisis. According to Foreign Ministry spokeswoman Maria Zakharova, Dastis' remarks claiming that Russia allegedly sought to weaken Spain were particularly dismaying. The Russian authorities, including Russian President Vladimir Putin, have repeatedly said that the situation in Catalonia was a Spanish internal affair.
On October 1, Catalonia held an independence referendum, during which the vast majority of voters backed the region's secession from Spain. The plebiscite was not recognized by Madrid, which subsequently imposed direct rule over the autonomous region and dismissed its government. A number of activists and several ministers of the former Catalan government were arrested, while several others managed to leave Spain.