"My position is that we need to come to the negotiating table. Sooner or later parties seat down and talk. The price is the only difference: the later, the higher it is, generally speaking," said Dombrovsky, a non-staff adviser to Ukrainian President Petro Poroshenko.
Vyshinsky was detained in Kiev on May 15 on the suspicions of supporting the self-proclaimed people's republics of Donetsk and Luhansk as well as treason. Last Thursday, a Ukrainian court ruled to place the journalist in pre-trial detention for 60 days without bail.
The Ukrainian lawmaker noted that nowadays information has become a tool in hybrid war.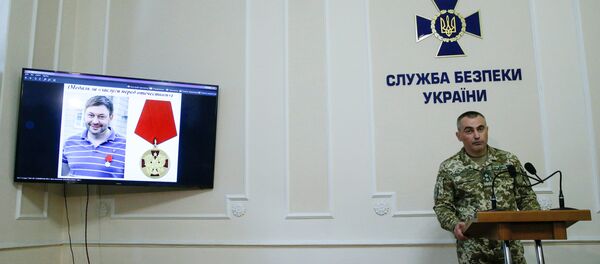 "It is often hard to draw the line between informational war and journalism. That's why we have to meet, we have to hold talks," Dombrovsky said. "Our reporters find themselves in similar situations and Russia and struggle a lot. Of course, we would like to solve all these issues."
On Monday, Vyshinsky's lawyer said the defense had appealed his arrest. On the same day, the Russian Presidential Human Rights Council sent an appeal to the Council of Europe (CoE) Commissioner for Human Rights Dunja Mijatovic regarding Vyshinsky's detention in Ukraine. A representative of the office of CoE commissioner for human rights confirmed to Sputnik that the appeal had been received.
The Russian Foreign Ministry characterized Kiev's actions against RIA Novosti Ukraine as an outrage. Russian Foreign Minister Sergey Lavrov stated that the actions of the Ukrainian authorities with respect to RIA Novosti Ukraine were unacceptable, while the Russian embassy delivered two protest notes to the Ukrainian Foreign Ministry demanding to stop aggression against media workers.