Kelly grew up on a farm in Northern California before the outbreak of the second World War. He enlisted in the US Army Air Corps, where he would become a 2nd lieutenant and bombardier aboard a B-24 bomber nicknamed "Heaven Can Wait."
It was on that plane that he and 10 others were struck down by Japanese anti-aircraft fire over Hansa Bay on the north coast of Papua New Guinea just a year and a half before the US ended the conflict by dropping atomic bombs on the cities of Hiroshima and Nagasaki in August 1945.
​On Memorial Day 2013, Scott Althaus, Kelly's cousin, embarked on his own journey — to find the missing plane. More and more of the family joined in on the search. Last year, they provided Project Recover — a group that seeks out crash sites related to soldiers missing in action — with eyewitness narratives, US military reports, flight documents and even journals from other soldiers flying in the same formation as the Heaven Can Wait. 
On Monday, Project Recover announced that they had discovered the B-24 at the bottom of Hansa Bay off the coast of Papua New Guinea and that the family had significantly aided their search for it.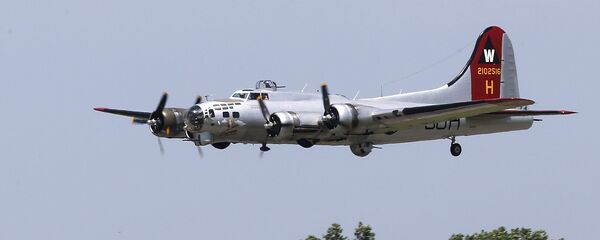 22 December 2017, 23:12 GMT
"He was a very gregarious man. He kept up correspondence with, I think, 38 different people stateside while he was overseas. He was just everybody's friend, very well liked," Althaus said of his cousin, who he never met but had researched extensively.
If Kelly's remains are found in the B-24, the family hopes that he might receive a more proper burial in his hometown in California. Nonetheless, the family was overcome with joy by the discovery. "This discovery of where the wreck is, of seeing pictures and videos of the wreck on the floor of Hansa Bay. My goodness, it brings closure in a way we didn't expect," Althaus said.