Observers argue that Beijing had won the Sino-American trade war before it had even begun, referring to the US-China joint statement released by the White House on May 19, 2018.
"There was a consensus on taking effective measures to substantially reduce the United States trade deficit in goods with China," the statement said. "To meet the growing consumption needs of the Chinese people and the need for high-quality economic development, China will significantly increase purchases of United States goods and services. This will help support growth and employment in the United States."
Commenting on the matter, The Washington Post pointed out that while China had agreed to boost purchases, it had not specified the amount. The rumor that Beijing would reduce the deficit, which skyrocketed to $375 billion in 2017, by $200 billion, was immediately refuted by the Chinese.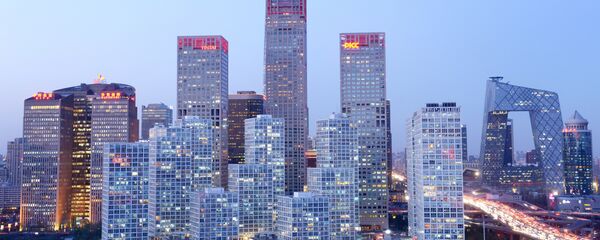 At the same time, the statement says nothing about the Trump-propelled "intellectual property theft" issue — instead it notes laconically that China would "advance relevant amendments" to its patent laws, the media outlet highlighted, adding that yet another Chinese victory is Washington's decision to suspend the imposition of punitive tariffs on $150 billion worth of Chinese imports.
Moreover, it appears that Trump has also back-pedaled on his earlier plan to bring an end to Chinese President Xi Jinping's "Made in China 2025" project, it added, referring to the White House's demand that Beijing stop subsidizing its high-tech companies.
According to Sputnik political observer Dmitry Kosyrev, both parties have won in the short run, judging from market indices: The Dow Jones industrial average and Nasdaq rose 1.2 and 0.5 percent, respectively, while a new stock market boom has kicked off in China amid the Sino-American trade truce.
However, Kosyrev highlighted that the US economy still faces serious challenges: "Deficiencies in trade, not to mention those in the budget, have increased the US national debt to $21 trillion [in March 2018], and the counter continues to spin."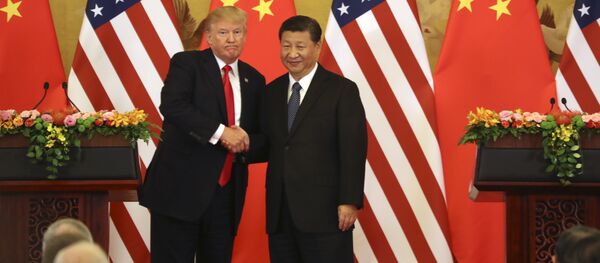 On the other hand, the question of how much time it will take for China and the US to reduce the trade deficit remains elusive.
According
to CNBC.com economics reporter John W. Schoen, even if China agreed to cut the imbalance by $200 billion in the next two years it would be unable to deliver on its vow, as it merely "defies the laws of economics."
"Imagine that China and the US will fulfill their promises sealed in the joint statement," Kosyrev suggested. "But how many years will it take and what will happen to China and especially to the United States in the future? Will America escape a looming financial catastrophe? As a result of the Washington round [of Sino-American talks] the Chinese economy is not threatened; on the other hand, the country does not have a national debt and trade deficit as the US does."
Meanwhile, Chinese Vice-Premier Liu He, who held negotiations with the Trump team headed by Treasury Secretary Steven Mnuchin, confirmed that Beijing is ready to boost imports of US agricultural and energy products, stressing that China is emerging as "the world's largest consumption market."
He further stressed that "this market will be highly competitive, so nations eyeing for market share have to improve their products and services so that the Chinese consumers would like to buy them," as The People's Daily reported. According to Kosyrev, Liu's latter remark sends a strong signal to Washington: Beijing is ready to help the US bring down its trade deficit but this does not mean it bows to Washington's will.
Chinese online newspaper Global Times echoes Liu: "China believes that to reduce the US trade deficit, the US should further open its domestic market to Chinese buyers," the media outlet presumed. "US products must meet the expectations of the Chinese market to stimulate China's purchasing activities. This is the key point behind the trade dispute between China and the US."
US-China Tariff War: To be Continued?
Meanwhile, Trump signaled on May 23 that it would take more time and effort to conclude the final version of the US-Chinese trade agreement.
"Our Trade Deal with China is moving along nicely, but in the end we will probably have to use a different structure in that this will be too hard to get done and to verify results after completion," he tweeted.
Our Trade Deal with China is moving along nicely, but in the end we will probably have to use a different structure in that this will be too hard to get done and to verify results after completion.

— Donald J. Trump (@realDonaldTrump) 23 мая 2018 г.
​Earlier, on May 21, Larry Kudlow, the director of the National Economic Council under US President Donald Trump, told CNBC that although anti-China tariffs are currently suspended, one "cannot remove tariffs as a negotiating tool or an enforcement tool from this process."
"And therefore, I don't think we're saying tariffs are over. Far from it," he stressed.

Then on May 22 Trump signaled that he was "not satisfied" with the US-Chinese talks,
sending
The Dow Jones industrial average down by 178.88 points.
The US-Chinese tariff war gained steam in March 2018 when the Trump administration imposed additional trade tariffs on steel and aluminum imports. Then Washington accused Beijing of adopting unfair economic practices and threatened China with additional taxation of $50 billion and then $100 billion on Chinese imports. Simultaneously, the US Treasury Department proposed cracking down on Chinese investments in the US high-tech sector. Earlier Washington banned Chinese leading telecom corporation ZTE from purchasing US parts and chips, thus dealing a heavy blow to the company. For its part, Beijing signaled its readiness to take a series of tit-for-tat measures prompting the White House to dispatch a trade delegation to China. The meeting did not bring tangible results. The subsequent visit of Vice-Premier Liu to Washington resulted in the tariff truce.  
The views and opinions expressed by the contributor do not necessarily reflect those of Sputnik.