"Dear Mr. Ceferin We are writing to you today concerning the critical human rights situation in Ukraine, the capital of which was approved by UEFA as the venue for the 2018 Champions League Final… We request that you intervene and urge Ukraine and President Petro Poroshenko in particular, to secure the immediate and unconditional release of Mr. Vyshinsky, and to create a safe environment for respecting human rights,"  the letter said.
The letter added that the media outlets, namely R-Sport, National Sports TV Channel Match TV, Radio Station Sport FM and the Championat.com website, called on UEFA to start a dialogue with Kiev on the human rights situation and the Vyshinsky case.
© Photo : Screenshot
A letter to the UEFA chief signed by Russian journalists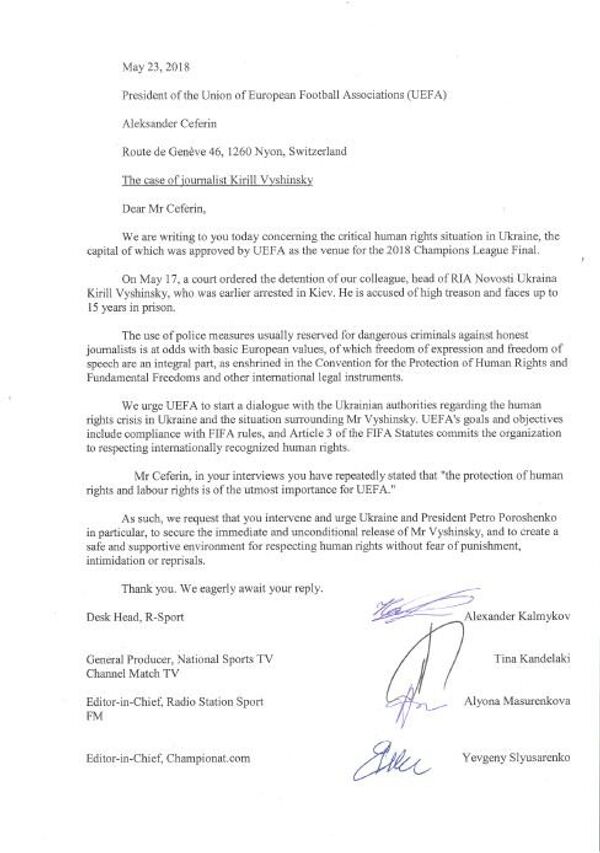 A letter to the UEFA chief signed by Russian journalists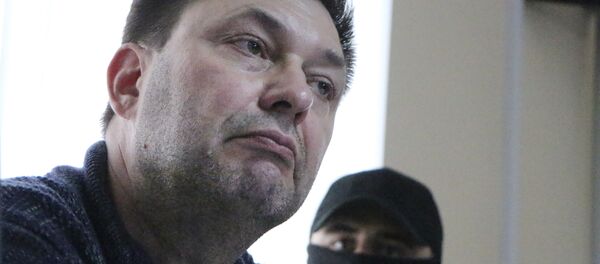 On May 15, the Ukrainian Security Service (SBU) broke into the office of RIA Novosti Ukraine in Kiev. Vyshinsky was detained on charges of treason. The SBU accuses Vyshinsky of supporting the self-proclaimed people's republics of Donetsk and Luhansk in Ukraine's southeast. On May 17, a court in the Ukrainian city of Kherson ruled to arrest Vyshinsky.
Following the incident with Vyshinsky, Sputnik Director-General Dmitry Kiselev demanded that the Ukrainian authorities free Vyshinsky immediately and end the persecution of media. Margarita Simonyan, the editor-in-chief of Sputnik and RT broadcaster stated that she thought what was happening in Ukraine was Kiev's "revenge" for the recently opened bridge to Crimea, built by Russia. Simonyan also pledged that she would do utmost to release the arrested journalist.