"We are outraged over the decision of Ukrainian authorities to include Rossiya Segodnya International Information Agency and RIA Novosti Ukraine on the three-year sanctions list and block access for agencies' websites. We consider this to be yet another act of political censorship," she said in a statement.
Zakharova also called for an "immediate and tough" reaction of relevant international organizations, especially the Organization for Security and Co-operation in Europe's Representative on Freedom of the Media.
READ MORE: RIA Ukraine Portal Head Vyshinsky's Defense Appealed His Detention — Lawyer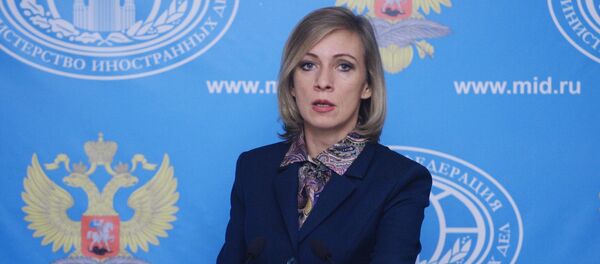 Earlier in the day, Ukrainian authorities
added Sputnik and RIA Novosti Ukraine
to a sanctions list for three years, with the agencies' resources and websites blocked in Ukraine.
The decision comes a week after the Ukrainian Security Service (SBU) broke into the offices of RIA Novosti Ukraine in Kiev, detaining its head Kirill Vyshinsky on charges of treason. The SBU accuses Vyshinsky of supporting the self-proclaimed Donetsk People's Republic (DPR) and Lugansk People's Republic (LPR) in Ukraine's war-torn southeast. Later, a court in the Ukrainian city of Kherson ruled that Vyshinsky would be put under arrest.