"The ballistic missile, launched from Yemen, [from a location] near the Sadah city, was intercepted by air defense systems. The debris fell on the residential blocks of Jizan, leaving no casualties or material damage," Maliki said, as cited by the Saudi Press Agency.
Meanwhile, the Houthi-owned Al Masirah television broadcaster said that a missile was fired to target the Jizan port.
READ MORE: Houthi Missile Reportedly Fired at Saudi-Held Base in Yemen
Earlier this week, Saudi Arabia's Ambassador to the United States Khalid bin Salman said that the Houthis had fired 140 missiles at Saudi targets since the onset of the military conflict in March 2015.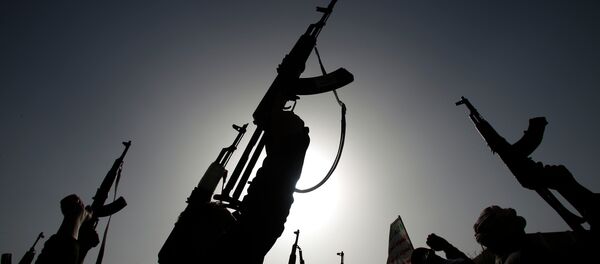 The
latest similar incident
occurred on May 21, when Saudi military intercepted a Badr-1 ballistic missile launched by the Houthis towards Jizan airport.
The Houthi movement has long been fighting against the government of Yemeni President Abd Rabbuh Mansur Hadi. Since March 2015, the Saudi-led coalition of mostly Persian Gulf countries has been carrying out airstrikes against the Houthis at Hadi's request. The Houthi movement has repeatedly fired missiles at Saudi targets, but the attacks have been intercepted by the Saudi military.