"We have never been practicing propaganda, we have been practicing journalism. This is easy to check by looking at our materials published over more than four years when I was in charge of the [portal]," Vyshinsky told the RT broadcaster in his written response to journalists.
The journalist stressed that it was difficult to imagine that the work of about 10 journalists could "threaten the sovereignty of a country that has a 40-million population." He also noted that there had been no serious complaint about the news portal's work.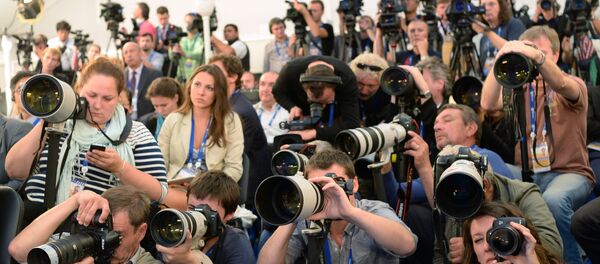 On May 15, the Ukrainian Security Service (SBU) broke into the office of the RIA Novosti Ukraine in Kiev. Vyshinsky was detained on charges of treason that same day. The SBU accuses him of supporting the self-proclaimed people's republics of Donetsk and Luhansk in Ukraine's southeast. On May 17, a court in the Ukrainian city of Kherson ruled to arrest Vyshinsky.
Earlier in the month, International Information Agency Rossiya Segodnya Director General Dmitry Kiselev demanded that the Ukrainian authorities release Vyshinsky immediately and end their persecution of the media. Margarita Simonyan, the editor-in-chief of Rossiya Segodnya Information Agency and RT broadcaster, stated that she thought what was happening in Ukraine was Kiev's "revenge" for the recently opened Russian-built Crimean bridge. Simonyan also pledged that she would do utmost to release the arrested journalist.