The US State Department issued a statement late Friday saying it was "concerned" by leaflets, which were reportedly dropped by government aircraft in the province of Daraa. According to reports circulating among pro-opposition monitors, the leaflets called on the militants to stop fighting and reconcile with the Syrian government, otherwise they would allegedly "gamble their lives" and head to "inevitable death."
READ MORE: US-Led Coalition Hits Syrian Army Base — Reports
"We also caution the Syrian regime against any actions that risk broadening the conflict or jeopardize the ceasefire," said spokeswoman Heather Nauert, noting that the ceasefire had been reaffirmed by Washington and Moscow last November. "As a guarantor of this de-escalation area with Russia and Jordan, the United States will take firm and appropriate measures in response to Assad regime violations," she added.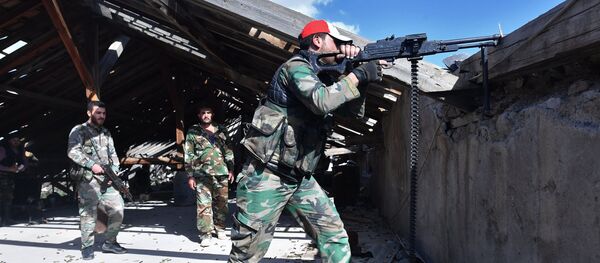 Earlier this week, a spokesman for the General Command of the Syrian Army announced the
complete liberation of Damascus
after Daesh* terrorists were ousted from their remaining strongholds in the al-Yarmouk Camp district of Syria's capital.
The Daraa province, where the first anti-government riots started in 2011, is now only partly controlled by Damascus, while many armed factions and terrorist organizations, including Daesh, are present in the region.
*Daesh, also known as ISIS, Islamic State is a terrorist group banned in Russia