The new legislation shall consider printing leaflets with information for asylum-seekers and offering them food or legal advice as a criminal offense.
The legislation is named the "Stop Soros Act," after billionaire and philanthropist George Soros, whom the government accuses of encouraging Muslim immigration to Europe.
According to the newly drafted law, the Constitution will also be corrected to prevent other EU countries from transporting asylum seekers to Hungary.
The bill on the non-governmental organizations stipulates that an asylum request is unacceptable if the asylum seeker wants to enter Hungary from a safe third country. The activity of supporting or financing illegal immigration is punishable with up to one year in prison, according to the text of the bill.
The UN refugee agency UNHCR urged Hungary on Tuesday to scrap a draft law restricting non-governmental organizations.
"UNHCR is seriously concerned that these proposals if passed, would deprive people who are forced to flee their homes of critical aid and services, and further inflame tense public discourse and rising xenophobic attitudes," the UN High Commissioner for Refugees (UNHCR) said in a statement.
Hungary, Poland, the Czech Republic and Slovakia oppose an EU plan to transfer 160,000 refugees from Syria and Eritrea to EU partners Italy and Greece, where migrant camps are already overpopulated.
READ MORE: George Soros to Provide Pro-EU Group With Millions of Pounds to Prevent Brexit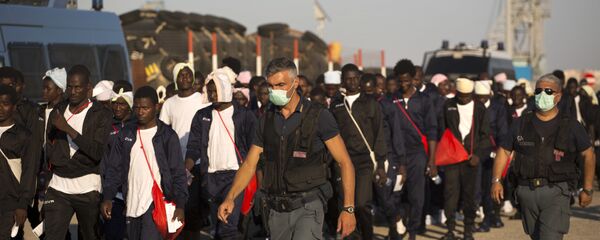 Billionaire globalist George Soros has often been accused of meddling in democratic processes and the internal affairs of a number of states via his non-government organizations (NGOs), to serve his pro-migration agenda.
Soros has also been blamed for interfering in last month's Hungarian parliamentary elections, with Budapest claiming he had hired over 2,000 personnel to "meddle" in the election.