"The Republic of Abkhazia and the Syrian Arab Republic declare mutual recognition and establishment of the diplomatic relations between the two countries at the level of embassies, which reflects their mutual desire to develop relations in all areas," the ministry's statement read.
South Ossetia's Foreign Ministry, also on Tuesday released a statement, announcing that Syria and South Ossetia had also declared mutual recognition and agreed to establish diplomatic relations at the level of embassies, "seeking comprehensive political, economic and cultural cooperation and interaction between the two countries for the benefit of their people."
"We are in active contact with Syria's Foreign Ministry and its embassy in Moscow. As today's communique read, the relations between our states will be [developing] on the level of embassies. This means that we will consider the issue of opening diplomatic missions in Tskhinvali and Damascus," South Ossetian Foreign Minister Dmitrii Medoev told Sputnik.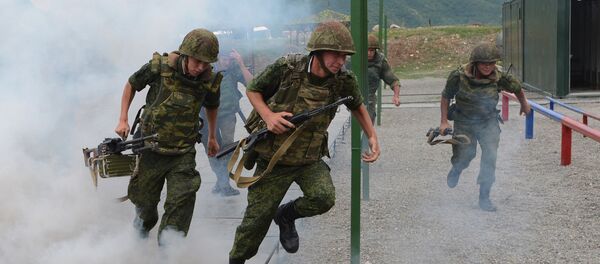 In reply to this move, Tbilisi has launched a procedure for suspending diplomatic ties with Damascus over recognizing the independence of Abkhazia and South Ossetia, Georgian Deputy Foreign Minister David Dondua said on Tuesday.
"Georgia has launched the procedure to suspend diplomatic ties with Syria. I would like to note that the international community firmly supports the territorial integrity and sovereignty of Georgia and the policy of non-recognition of the occupied territories," Dondua told a briefing.
READ MORE: South Ossetia President Invites Russian Leaders to Mark Independence Day
Syria became the fifth countriy to recognize the independence of South Ossetia and Abkhazia, following the example of Russia, Nicaragua, Venezuela and Nauru.
South Ossetia declared independence after a military offensive by Georgian troops in August 2008, launched in order to regain control of the region, partially destroyed its capital. After five days of hostilities, Russia managed to expel Georgian troops from the breakaway region, with Moscow later recognizing the independence of Abkhazia and South Ossetia.