In their Twitter reply to the post by the UK Foreign Secretary on the "murder" of Russian journalist Arkady Babchenko, the Wikileaks have pointed out that Mr. Babchenko was actually alive and then called out Boris Johnson on his freedom of speech statement.
Boris Johnson stressed "we must defend freedom of speech," which promoted a response by Wikileaks, reminding the Minister that "UK continues to spend millions on its illegal attempts to arrest Julian Assange in violation of two UN rulings explicitly requiring it to cease doing so."
READ MORE: UN Ruling on Assange's Illegal Detention Explained
This is not the first time Assange's confinement at the Ecuadorian embassy in London has been brought up amid statements by British officials on the significance of freedom of media and speech.
The Wikileaks founder slammed the UK Mission to the United Nations in Geneva, after it criticized the state of media freedom in the Maldives, South Sudan, China, Turkey, Eritrea and Egypt at the 37th Session of the UN Human Rights Council.  The organization published a post on Twitter, saying:
Mr. Assange — via an account run by his legal campaign — responded with harsh criticism, calling the British authorities out on their "hypocritical" approach.
"And that is exactly why you have detained me without charge for eight years in violation of two UN rulings and spent over 20 million pounds spying on me… Your entire international human rights programme is £10.6m you pathetic frauds."
READ MORE: £10 Million Spent on Assange Stakeout As London Taxpayers Foot the Bill
Mr. Assange has been residing in the embassy since 2012, where he sought asylum following an international arrest warrant issued by Sweden amid allegations against the whistleblower related to sexual assault and rape. In 2017, Sweden revoked the warrant, bringing to an end the legal stand-off that lasted 7 years.
However, the Metropolitan police may still arrest Assange for breaching his bail in Britain back in 2010. The Wikileaks founder fears extradition to the US, where could face espionage charges for publishing secret US documents through his website.
READ MORE: June 19 Marks Five Years of 'Illegal' Incarceration for Assange, But Also Hope
Supporters of the whistlewblower have been campaigning for his freedom, calling on the UK authorities to uphold Mr. Assange's right to free speech. 
© AP Photo / Kirsty Wigglesworth
A demonstrator holds a banner outside the Ecuadorean Embassy in London, where Wikileaks founder Julian Assange is staying, Thursday, Feb. 4, 2016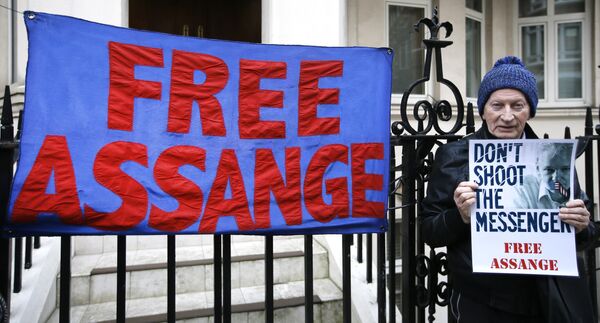 A demonstrator holds a banner outside the Ecuadorean Embassy in London, where Wikileaks founder Julian Assange is staying, Thursday, Feb. 4, 2016
© AP Photo / Kirsty Wigglesworth