The poll, conducted by the Gallup Korea research company among slightly more than 1,000 adults, revealed that about 40 percent of South Korean citizens in their 40s and 50s had a favorable attitude toward Kim. At the same time, only 16 percent of adults aged between 20 and 30 were of the same opinion.
READ MORE: South Korea Wants Russia to Play Bigger Role in Korean Peace Process
The survey also showed that US President Donald Trump was also becoming increasingly popular in South Korea, with his approval rating growing from 24 percent to 32 percent during the same two-month period.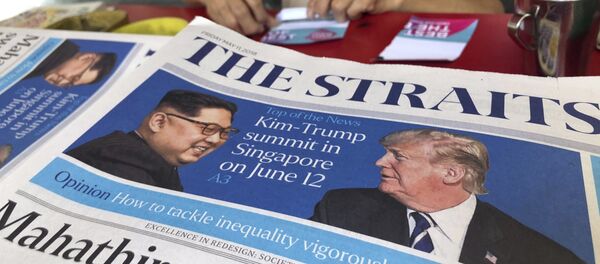 The Gallup Korea poll comes ahead of a possible summit between Kim and Trump that is scheduled to take place in Singapore on June 12.
North Korea suggested earlier in the day a joint celebration with the South in June to mark the anniversary of their first summit in 2000.
At the end of April, North Korean leader Kim Jong-un and the South Korean president held a summit in the "truce village" of Panmunjom, during which the sides signed the Declaration for Peace, Prosperity and Unification on the Korean Peninsula, which commits the two countries to denuclearization of the peninsula and talks to bring a formal end to the Korean War.