A bizarre affair involving Russian journalist Arkady Babchenko in Ukraine, who was first pronounced dead and then "resurrected" hours later by Ukrainian authorities, took on a new twist when a leaked video allowed media to identify his "assassin."
A short video posted on Ukraine's Security Service (SBU) YouTube account, allegedly showing the moment when the alleged "hitman" receives his advance fee, led the former to publicly announce his identity – a Ukrainian national named Oleksiy Tsimbalyuk.
The would-be "assassin" turned SBU informant (or so he claims) publicized his identity via a post on Facebook, insisting that he's got nothing to hide but claiming that he can't disclose any more information because of the ongoing investigation.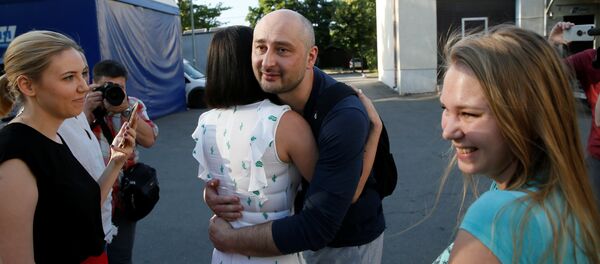 According to the Ukrainian Independent Information Agency of News (UNIAN), Tsimbalyuk was previously part of Ukraine's government forces, waging a bloody conflict in the country's eastern provinces, which claimed thousands of civilian lives.
Ukrainian news website Znaj.ua, however, also adds that according to his personal friend, Tsimbalyuk is "a former priest" and a member of the Right Sector* – an extremist neo-Nazi group that rose to prominence in Ukraine during the 2014 coup.
And if this description does not sound colorful enough, here are some photos straight from social media networks that may help you to better understand what kind of person Tsimbalyuk is.
For example, it appears that he has a somewhat extravagant fashion sense.
Tsimbalyuk's comment – "[I] want [it]!!!".
And he and his friends really like raising their hands in a gesture eerily similar to a certain greeting from mid-20th century.
Going through the Facebook of the man who (allegedly) worked with the SBU to hire the Babchenko would-be assassin. He's… interesting. (on the right) pic.twitter.com/1UlZgnSXfN

— Aric Toler (@AricToler) 31 мая 2018 г.
​​On May 29, reports surfaced that Arkady Babchenko, a Russian journalist living in Kiev, was shot dead near his residence.
While the reports were initially confirmed by Ukrainian authorities and sent ripples across media agencies around the world, the next day SBU hosted a press conference featuring Babchenko, alive and well, and claimed that it was all a sting operation aimed at ferreting out people who allegedly ordered a hit on the journalist.
READ MORE: Here is What Links Julian Assange, Arkady Babchenko & UK FM Boris Johnson
This development prompted many news outlets to wonder what was the point of this operation and was employing such tactics worth it, while Reporters Without Borders (RSF) have condemned the ploy outright.
"This journalist's reappearance is a great relief but it was distressing and regrettable that the Security Service of Ukraine played with the truth. Was such a scheme really necessary? There can be no grounds for faking a journalist's death," Reporters Without Borders' secretary-general Christophe Deloire said.
*Right Sector — an extremist group which is outlawed in Russia.