In the run-up to next week's G7 summit, finance ministers and central bank governors from six of the G7 countries have slammed the US decision to impose tariffs on steel and aluminum imports, Deutsche Welle reported.
US Treasury Secretary Steven Mnuchin bore the brunt of the criticism leveled at Washington by America's closest allies Canada, France, Germany, Italy, Japan and the UK during their meeting in Whistler, Canada on Saturday.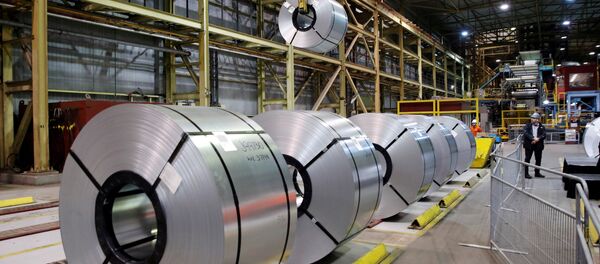 Saturday's criticism came just a day after the EU and Canada, which are the largest sources of US steel and aluminum imports, filed a formal complaint with the World Trade Organization against the US tariffs imposed on the grounds of national security.
After the Whistler meeting, the attending finance officials agreed on the need to take "decisive action" on the tariffs issue at the upcoming G7 summit in Charlevoix, Quebec.
Speaking at a separate news conference, US Treasury Secretary Steven Mnuchin said that President Trump is trying to "rebalance our trade relationships."
He added that he had informed Trump about some of the comments made by America's main trade partners and that the president would discuss these issues with his fellow G7 leaders.
EU Reforms
German Finance Minister Olaf Scholz told reporters that the conflict over US over steel and aluminum tariffs encourage EU countries' desire to speed up reforms in the bloc.
"There were several issues discussed at the G7 over which there was no agreement. That's really quite unusual in the history of the G7," Scholz said.
The EU ministers also voiced their concern about the effect the new US sanctions against Iran may have on European firms working in the Islamic Republic.
"Total Incomprehension" 
Canadian Finance Minister Bill Morneau said he told Mnuchin it was "our absolute view that this is absurd, that Canada could in any way be a security risk."
"We're concerned that these actions are actually not conducive to helping our economy, they actually are destructive, and that is consistently held across the six countries that expressed their point of view to Secretary Mnuchin," Morneau added.
Japanese Finance Minister Taro Aso criticized Washington's decision as "deeply deplorable," adding that it was the "US against everyone else."
His opinion was echoed by French Finance Minister Bruno Le Maire who said that Mnuchin was alone on the tariff issue, with the group becoming a "G6 plus one" as the other six G7 members had expressed "total incomprehension" over Washington's move.
READ MORE: Canada Files WTO, NAFTA Litigation to Counter US 'Illegal' Tariffs
Trade frictions between the United States and the EU have heightened since Washington imposed a 25 percent tariff on imported steel and a 10 percent tariff on aluminum imports in March.
The US move has also invited strong criticism from China which retaliated by imposing its own tariffs on imported US goods.