"The Chinese government long ago gave an assessment of the political turbulence that took place then. Every year, the United States releases its so-called statement [regarding the Tiananmen Square protests], repeatedly brings accusations against the Chinese government and interferes in the internal affairs of China. In this context, China expresses its dissatisfaction and decisive protest. We have already made representation to the US side," Chinese Foreign Ministry spokeswoman Hua Chunying said at a briefing.
The diplomat called on Washington to stop making reckless statements and to do its utmost to improve bilateral ties instead of deteriorating them.
READ MORE: Oriental Express: WATCH N Korea's Kim Allegedly Arrive in China by Armored Train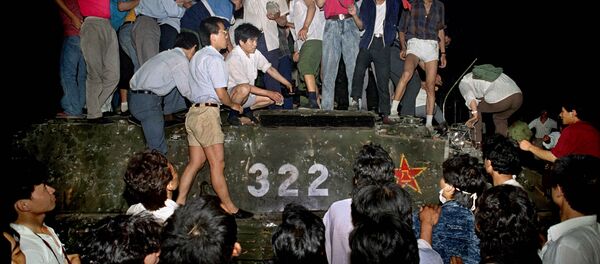 16 October 2016, 00:05 GMT
On Sunday, Pompeo called on China to "make a full public accounting of those killed, detained or missing" during the 1989 protests in Beijing, as well as to release everyone detained and stop the "harassment" of people who participated in the demonstrations and their family.
On June 4, 1989, a student-led protest being held in Beijing's Tiananmen Square was dispersed by the army, leaving over 200 dead and 7,000 injured, according to official estimates. Human rights activists have claimed the death toll is in the thousands.