Hungary's parliament will debate new legislation Tuesday that outlaws the act of providing assistance to illegal immigrants. The new law will reportedly shut down organizations and sometimes even imprison people found aiding immigrants trying to get into the country unlawfully.
The bill will be voted on in a week and, if passed, will become law within a month, the Hungarian Parliament website reads.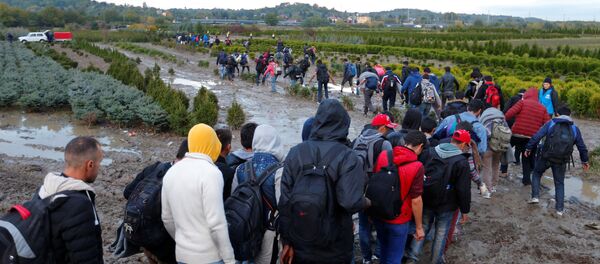 According to the Hungarian Helsinki Committee, some of the actions that would be banned are: assistance in filing forms, distributing information among immigrants on how to claim refuge and establishing professional networks to help migrants.
The text of the legislation, known as the "Stop Soros" bill, reads: "Those who provide financial means… or conduct this organizational activity on a regular basis will be punished with up to one year in prison," according to the parliament's website.
The legislation also says that migrants attempting to enter Hungary via a third country, in which they were not directly persecuted, will not be granted asylum.
"We need an action plan to defend Hungary and this is the STOP Soros package of bills," the interior ministry said in a comment accompanying the legislation.
"The people of Hungary have made it clear that they do not want Hungary to become an immigrant country," a spokesperson for the ministry said in an interview. "They have made it clear that they want to live in security and that they expect and support the government's introduction of further measures in the interest of Hungary's security and prevention of the organization of illegal migration."
The move sparked fierce criticism from Hungarian Helsinki Committee, an organization that helps migrants enter the country.
"EU law clearly sets out that while the asylum procedure is going on, asylum-seekers have the right to stay in the country," the group said in a statement. "The Hungarian government, instead of heeding widespread international outcries, raises the stakes."
"The government threatens those who stand up for human rights with the criminal code," it added, saying its activities were lawful.
The UN Refugee Agency also weighed in on the issue last week.
"UNHCR is seriously concerned that these proposals, if passed, would deprive people who are forced to flee their homes of critical aid and services, and further inflame tense public discourse and rising xenophobic attitudes," the UN High Commissioner for Refugees said in a statement May 29.
Hungarian Prime Minister Viktor Orban is known for his right-wing policies, including a strong anti-immigration stance. Orban was reelected in April with a landslide victory.