The IDF said on Monday that the troops thwarted an "infiltration attempt" by "two terrorists who damaged the security fence and were armed with an axe." The statement said that the soldiers "fired towards the terrorists, killing one of them," without clarifying what happened to the second Palestinian suspect.
The health ministry in Gaza has not commented on the incident.
A short while ago, IDF troops stopped two terrorists who attempted to infiltrate Israeli territory from the Gaza Strip while armed with an axe pic.twitter.com/V1XG4LwGdH

— IDF (@IDFSpokesperson) 4 июня 2018 г.
The situation in Gaza escalated dramatically at the end of May, after Israel reported missile strikes from Gaza, starting an anti-terror operation in the enclave.
READ MORE: IDF Officer Says Israel 'Closest' to War With Gaza Since 2014 — Report
This strike was performed amid the violent clashes between Palestinian protesters and the IDF on Gaza's border with Israel, which erupted in March amid the 70th anniversary of the formation of Israel, following the recent relocation of the US Embassy in Israel from Tel Aviv to Jerusalem. Since the beginning of the demonstrations up to 125 Palestinians have been killed and 2,700 more injured.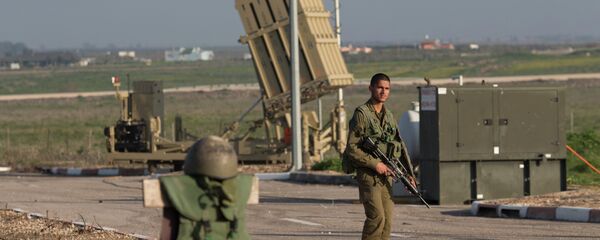 The Israeli military claimed that the protesters tossed improvised explosive devices and Molotov cocktails, while also burning tires and trying to break the border barriers, in what prompted prodded Israeli soldiers to fire at the protesters in response. The IDF has also accused the Hamas movement of forcing Palestinians to breach the Gaza border and provoke Israeli soldiers.