Infamous Hollywood film producer Harvey Weinstein appeared in court in New York on Tuesday, to plead not guilty on rape and criminal sex act charges after last week a grand jury indicted him on charges involving two women. Weinstein later posted bail for $1mln.
Weinstein told the judge during his second court appearance that any sexual relationships that occurred with the plaintiffs were consensual, NBC News reported.
READ MORE: Movie Mogul Harvey Weinstein Indicted on Rape Charges - Manhattan DA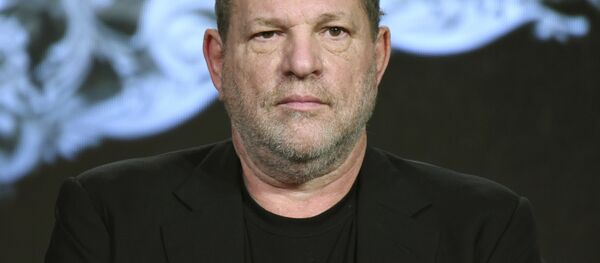 The Hollywood mogul has been the subject of a probe by New York police and the Manhattan District Attorney's Office since October 2017. The Miramax co-founder and former head has been facing charges that he forced actress Lucia Evans to perform oral sex on him in 2004, according to the Daily News. Evans told Ronan Farrow, who broke open the story in October of the allegations about Weinstein for the New Yorker after years of rumors, that she clearly told the producer to stop, over and over, during the episode.
Weinstein has been accused of unwanted sexual advances by more than 70 women and was arrested on May 25. He admitted having sexual relations with several of the women who accused him and insisted he never used force or threatened anyone in order to compel them to have sex with him.
READ MORE: Salma Hayek's Attack on 'Monster' Weinstein Sets Twitter Abuzz
Weinstein has also been accused of sexual wrongdoing and assault - including rape - by actresses Rose McGowan and Asia Argento, as well as a number of other women, including some who worked for him at Miramax. Some members of his staff have also been accused of enabling or brushing off his behavior. Weinstein has admitted to boorish manners, but denied any wrongdoing, according to Brafman.
READ MORE: Ex-Weinstein Aide Praised on Social Media for Breaking Silence on Rape Claims
Weinstein's case is one the more prominent high-profile scandals involving sexual misconduct of famous and powerful men in the United States that have also included, among others, comedian Bill Cosby, CBS and PBS host Charlie Rose and NBC host Matt Lauer.