"The Philadelphia Eagles are unable to come to the White House with their full team to be celebrated tomorrow," Trump said on Monday. "They disagree with their President because he insists that they proudly stand for the National Anthem, hand on heart, in honor of the great men and women of our military and the people of our country. The Eagles wanted to send a smaller delegation, but the 1,000 fans planning to attend the event deserve better."
Eagles fans, Trump added, may still visit the White House for a ceremony on Tuesday to celebrate America.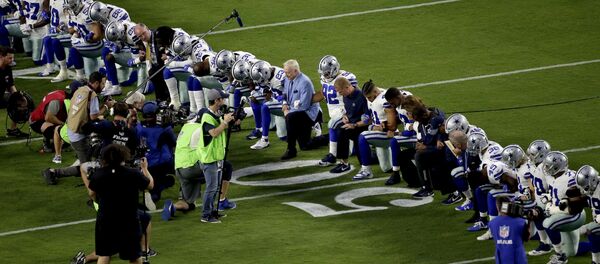 Trump has previously said that players who kneel in protest during the national anthem should be fired.
Last month, the US National Football League (NFL) announced it will adopt a policy this year that fines players who disrespect the American flag by kneeling during the national anthem, which is played immediately prior to the start of football games.
NFL players have knelt during the national anthem to protest against what they call the US justice system's unfair treatment of blacks and other minorities. NFL players and some owners have defended the protests as an exercise in free speech, a right protected by the US Constitution.