According to the Sacramento Police Department, the driver of a Silver Ford Fiesta called them Monday to report another man in a white Chevrolet TrailBlazer chasing him in the eastbound lanes of Interstate 80. When the Fiesta exited the highway near X and Fifth streets, the suspect purposefully rammed his car into the victim's car multiple times before escaping the scene down the exit ramp. 
​"A caller called us advising that there was another driver behind them and they had been rammed by that driver," Sacramento Police Department spokesman Sergeant Vance Chandler told Fox 40. The police are currently investigating that incident, which was not captured on camera.
But this guy was just getting started.
The suspect then drove east on X Street and once again plowed his car into an empty, parked Honda CRV at the intersection of X and 10th streets multiple times. Bystanders filmed the incident as it unfolded.
Following his second car-smashing, the suspect then got out of his vehicle and started jumping on the roof of the Honda, breaking the SUV's windows.
In the video, an ambulance is the first emergency vehicle to arrive at the scene, but the EMTs can be seen keeping their distance until police arrive a few minutes later, as the man keeps on smashing the poor Honda's roof.
"I think our officers acted heroically in [that] they were very patient," Chandler told Fox40.
"This person was in a crisis obviously. They [police] were unable to get him to cooperate or speak to them," police also told CBS.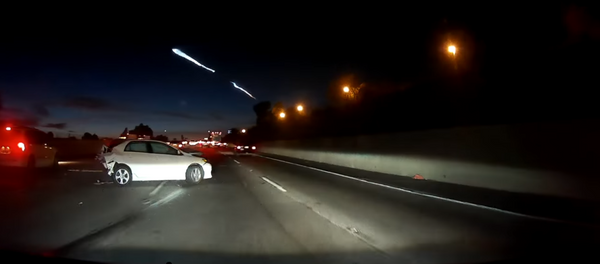 27 December 2017, 19:00 GMT
Eventually, though, the suspect fell off the car, and police officers were able to surround and arrest him.
The suspect was taken to a hospital because officers suspected that he was under the influence of narcotics, the Sacramento Bee reported. He was charged with felony assault and felony vandalism. His identity, however, has yet to be revealed.